World news story
British Embassy hosts Scottish companies on 5-day trade mission to Egypt
British Ambassador John Casson: "British investment and expertise is ready to fire the engine of Egypt's economy."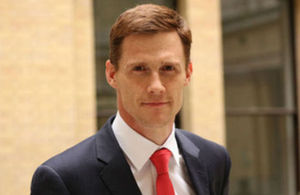 British Ambassador John Casson has announced that he wants the UK to remain Egypt's number one investor and to help Egypt power a strong economy that creates jobs and opportunities for all.
Casson's remarks came as he hosted a welcoming reception at the British Embassy for 11 Scottish companies visiting Egypt on a five-day trade mission led by Dr Abdel Hadi Fawzy of Scottish Development International (SDI).
Speaking at the reception on Sunday, Casson said:
President Abdel Fattah el-Sisi has announced that boosting Egypt's energy supply is one of his government's top priorities and when it comes to energy, Britain and Egypt are made for each other. British investment and expertise, together with Egypt's commitment to an energy revolution, can transform this country's future.
Scotland is famous for its modern and innovative companies. In the oil, gas, and renewable energy sectors, Scottish companies are world leaders. This trade mission is a great example of how British investment and expertise is ready to fire the engine of Egypt's economy.
This week's trade mission comes after Foreign Secretary Philip Hammond announced his desire to strengthen trade and investment between the UK and Egypt at the Sharm el-Sheikh economic conference in March. In Sharm el-Sheikh, British oil and gas giant BP signed the largest investment deal in Egypt's history worth $12 bn, bolstering the UK's position as the number one investor in Egypt. In 2014, almost half of all foreign direct investment in Egypt came from the UK and since 2010 British investment in Egypt has totalled $24.1 bn.
The mission has been organised by SDI, the international economic development arm of the Government in Scotland. Working in partnership with British embassies and consulates around the world, SDI helps Scottish companies trade and invest overseas and promote Scotland as a good place to live and work.
Dr Abdel Hadi Fawzy is a senior executive at SDI and leader of the mission. He said:
We are delighted to visit Egypt following the Egypt Economic Development Conference held in Sharm el-Sheikh in March, which has reinstated Egypt as a prominent location for trade and investment. Scottish businesses are well-placed to meet Egypt's needs in the energy sector: they enjoy the benefits of long experience in the field, a highly-skilled workforce, and close collaboration with academia to bring new technologies to the market.
Over 40 years, Scottish oil and gas engineering and contracting companies have developed into one of the strongest supply chains in the world. Scotland is also a world leader in clean power generation, aiming to source 100% of its power from renewable sources by 2020. In total, the Scottish energy sector employs around 200,000 highly skilled workers across some 2,000 companies from multi-national organisations to small and medium enterprises.
Ian Thomson is the business development director for one of the companies participating in this week's mission, Orion Group. Orion Group supplies engineering manpower to the global oil and gas sector. Founded in 1987, it now operates in 44 countries, employs 5,500 engineering contractors worldwide, and last year enjoyed a turnover of £450 million. Thomson says that he is on this week's trade delegation to explore the possibility of opening a new office in Cairo. He continues: "What we can offer is integrity, global expertise, and the ability to deliver."
Gordon Milne is the business development director for Centrifuges Un-limited. He describes Egypt as an "attractive market" for his company's revolutionary "Elvos" product, which aims at providing a cost-effective waste management system for the oil and gas industry.
Published 25 May 2015