World news story
British Embassy funds women's agriculture project on the island of Loos, off Conakry
The British Embassy funds this project to enable women to produce vegetables on the island of Loos, off Conakry.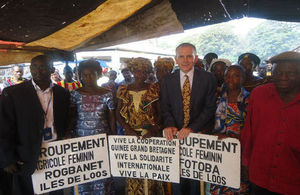 The Embassy recently launched a project to help women on the Island of Loos to gain a new and stable source of income, through growing and selling vegetables locally. It will reduce the amount of time they spend crossing the sea to and from the mainland; we saw the risks of these journeys in the tragic loss of life incurred at sea on 31 August 2012.
The project will help to improve the quality of the diet of local people on the islands. Such income-generating activities can help reduce poverty, and offer the women a greater role in the economic life of the island. There is an interesting historical link between the islands and the UK, dating from the 19th century, traces of which are still evident on the islands today.
Published 11 December 2013