World news story
British Embassy funds interpreting project in Macedonia
British Embassy concludes successful support to a project on the implementation of the Ohrid Framework Agreement in Macedonia.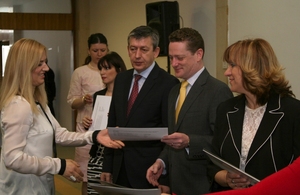 For the first time in Macedonia there is an established process for certifying interpreters and translators who will work in non-majority languages envisaged with the Ohrid Framework Agreement (OFA). These interpreters and translators will work to support state institutions such as Parliament, local authorities, judiciary and a number of public service bodies. Under a British Embassy funded project, interpreters undertook a seven-month training course in continuous professional development. During an exam session in April 2013, 53 candidates passed the exams and received certificates qualifying them for public service interpreting and translating.
Certificates were presented by British Ambassador Christopher Yvon, Musa Xhaferi, Deputy Prime Minister for the Implementation of OFA and Slavica Veleva, Dean of the Faculty of Philology Blaze Koneski in Skopje.
Speaking at the official ceremony British Ambassador Yvon said:
I am glad that the British Embassy has been part of this project, which is within the spirit of the Ohrid Framework Agreement and which will help to bring a more inclusive approach to all communities. I would like to commend the efforts of all participants who will work in Macedonia's institutions and who will be able to draw on their new skill levels. I congratulate all those receiving their certificates today.
The project under the title 'Support to OFA - Capacity building for the minorities within public administration reform' was implemented in the period of April 2011 to April 2013 by the British Council Macedonia with the Secretariat for the Implementation of the Ohrid Framework Agreement.
Published 2 May 2013