World news story
British Embassies launch a campaign to make travel to UK easier for Emiratis using Electronic Visa Waiver
The British Embassies in the United Arab Emirates have launched today, 13 July 2015, a digital campaign offering clear guidance for Emirati Nationals on using the UK's Electronic Visa Waiver Scheme (EVW) to ensure a smooth and hassle free entrance into the UK.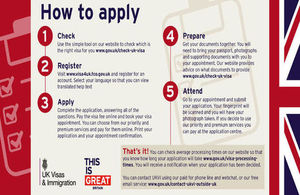 The UK has operated an electronic visa waiver system for Emiratis since the beginning of 2014. Almost 50,000 Emiratis used the service last year. They can then stay in the UK for up to 6 months. The campaign on the Embassies' Facebook, Instagram and Twitter accounts comes ahead of the Eid and holiday season and will last until mid August 2015. An EVW allows access to the UK without a visa, provided details are registered at least 48 hours before departure. Registering for an EVW is a straightforward online process, and the vast majority of Emiratis who use the service do so without issue. The campaign is designed to make visitors from the UAE feel welcome in the UK, and to help travellers to avoid simple errors that a small number of users make when filling in the EVW form.
Some of the guidance highlighted in the campaign include:
The names entered on the EVW form must match exactly the names in the passport being used to travel, including any other characters (such as hyphens or apostrophes);

The passport number entered on the EVW form must match exactly the number in the passport;

The EVW is only valid for the journey being taken. Users must ensure that the flight number, point and time of departure and arrival on the form exactly match the travel itinerary;

If the flight is indirect, the flight details on the EVW must be of the final flight to the UK;

If EVW users change their travel plans, miss their flight, or choose a different flight, the EVW will not be valid for the new flight. They must complete a new EVW with the new travel details and this must be completed at least 48 hours before departure.
The campaign also highlights other options available to obtain UK visas. For example, Emiratis can apply for multiple-entry UK visas, with validity up to 10 years. Visit visas allow multiple entries to the UK, and the holder can stay in for up to 6 months at a time. A new and popular passport passback service allows applicants to keep their passport while their visa is being processed. And, for those needing to travel urgently, the UK offers a priority service for 3-5 day processing, and a super priority visa service which is open to all visitors. The super priority service allow customers to obtain long term, multiple entry visit visas - as well as visas to study, work or do business in the UK – on the same day as they submit their application.
Notes to Editors
Sam Kelly
Press and Public Affairs
Tel: +971 309 4444
Published 14 July 2015