World news story
British-Czech Nuclear Forum
Invitation to a conference taking place in Prague on 31 October 2013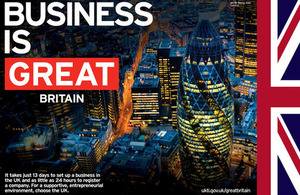 Civil nuclear power is seeing resurgence across Central Europe – from new build and lifetime extension of existing reactors to decommissioning & waste management projects. The Czech Republic presents immediate opportunity for investment in new nuclear with two new nuclear reactors planned at Temelin. Other countries in the region also offer significant opportunities. Czech companies continue to be successful across the region in supplying key components to neighbouring countries for nuclear projects. British-Czech cooperation can help access these opportunities through a strong and credible partnership.
The Forum is aimed at helping identify commercial opportunities for British-Czech partnership in the civil nuclear sector in the Czech Republic and other Central European countries.
Venue and Date:
Venue: Kaiserstejnsky Palace, Malostranske namesti 23/37, Prague, Czech Republic
Date: 31 October 2013
Discussion Topics
1.Central European Opportunities
Learning about ongoing or planned nuclear projects from leading power plant operators including for example CEZ Czech Republic, PGE Poland, Mochvce/ Jaslovske Bohunice Slovakia, Paks Hungary, Kozloduy Bulgaria).
2.Plant life extension
The Czech generation company, CEZ, operates 6 VVER reactors generating about 3.8GWe. Policy adopted in 2009 looks to extend the life of 4 VVER 440 reactors by 10 years at a cost of around €560M. Further extensions are planned. Although the projects are underway there is scope for involvement in the current projects as well as longer term work on high value items like new C&I systems. There are also a number of other opportunities on life extension and upgrades on plants in the region. Czech companies are well placed for work on VVER reactors and would be good partners for UK companies. UK companies have good experience on the Candu systems with the repairs of the Cernovoda reactors in Romania, which CEZ has a stake in.
3.New build – operational support
Two new reactors are planned at the Temelin Site and one more eventually at the Dukovany site. An announcement is expected before the mission date on the choice of the Temelin reactors between a joint Rosatom/Czech VVER design and a Westinghouse AP1000. In either case there are opportunities for UK companies to support the project either on behalf of CEZ the operator or the vendor supply chains working with Czech companies. There is also likely to be new build in Poland and Hungary, but plans are still under development. Poland presents another opportunity as it is new to nuclear generation and will need additional support to establish the necessary infrastructure and capabilities. Policy announcements are expected this year so now is a good time to get involved.
4.Decommissioning and Fuel storage
Opportunities for decommissioning in the Czech Republic are limited but spent fuel and radwaste management are continuing concerns. There is scope for long term planning decommissioning and final disposal of spent fuel. Decommissioning and waste management is more important in Bulgaria and Slovakia where the decommissioning of VVER reactors is being supported by EU funds. This is an area where CEZ and the Czech nuclear industry are keen to develop expertise and would benefit from partnership with UK companies.
5.Financing and Legal issues
Financing the life extension and new build plans are current issues across the region. CEZ is looking for partners or sources of finance. There is also a need to ensure that decommissioning liabilities are properly handled. Post Fukushima the management of risk is a growing concern. Elsewhere in the region there are a wide range of opportunities arising from preparation for new build and dealing with legacy issues, which the UK is well placed to support.
For more information please visit the UKTI website
Who you can meet
British, Central and Eastern European and Czech companies offering supply chain services for Temelin and nuclear projects across CEE;
Government representatives;
Westinghouse and Rosatom representatives;
Operators and plant representatives from CEE Region;
Nuclear industry organisations.
If you are interested in attending the conference please contact us on:
Eva Kopecka, Senior Trade & Investment Adviser
T: +420 257 402 705
Dorota Rakowska, Trade & Investment Adviser
T: +420 257 402 708
Published 23 September 2013