World news story
British Council promote new language testing tool in Macedonia
This was published under the 2010 to 2015 Conservative and Liberal Democrat coalition government
New placement test - Aptis, from the British Council available to institutions and companies in Macedonia.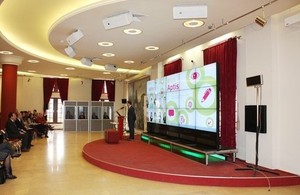 At an event in Skopje on 23 January 2014, the British Council promoted Aptis – a new language testing tool which is available for private companies, state bodies and academic institutions.
The event served as a regional forum for participants to discuss quality English language assessment for successful business and human resource practices. Participants at the event included human resources managers, recruitment companies, and managers in business, private and public institutions from Macedonia and Kosovo.
Speakers included British Council representatives, Nick Kendall, Western Balkans Examinations Project Manager and Andrew Mackenzie, Head of Assessment Services, English and Exams.
Our Ambassador Christopher Yvon officially opened the conference:
I would not see English as being a replacement for other languages, but more as a huge complementary benefit. The growth of the internet, with English as the dominant language, and the expanding use of English in business and commerce do however make it an increasingly indispensable asset. The use of the Common European Framework is a major advantage in the Aptis assessment method as it simplifies the ability for employers to compare levels of English against a readily understood and uniform benchmarking process.
Aptis is an innovative assessment tool which helps employers in recruiting new people and helps educational institutions to benchmark students. It can offer rapid results and aid future development, training and workforce planning. It can be tailored to the needs of beneficiaries and offers online testing and scoring according to the Common European Language Framework.
Document information
Published: 23 January 2014