World news story
British company Restrata signs aviation security deal
British company Restrata signs aviation security deal with the Egyptian Falcon Group International.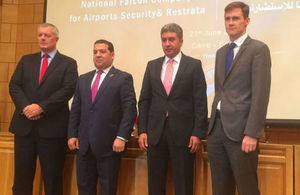 British Ambassador John Casson and Minister for Civil Aviation Sherif Fathy today witnessed the signing of a contract between British company Restrata and Egyptian private security firm Falcon Group International, confirming Restrata as Falcon Group's aviation security consultant of choice.
Under the terms of the contract, Restrata will now deliver a six-month programme of training to 7000 Falcon Group personnel, who have been tasked by the Ministry of Civil Aviation to provide security at airports across Egypt.
The two companies also signed a Memorandum of Understanding to work together on establishing a training institute, which will support long-term sustainability of the partnership.
British Ambassador John Casson said:
Nothing is more important than the safety of British and Egyptian people as they travel between our countries . I'm proud that Britain is Egypt's leading and most active partner on the road to a world class airport security system that could be a model for the world . Today's new UK-Egypt partnership is another important step on that road.
Managing Director of Restrata, Mark Alexander said:
Our mission at Restrata is to support our clients in building resilience and optimising their operations through effective management of safety and security risks. As such, we are proud to be working with National Falcon in as they undertake this prestigious programme that is critical to the future development of the Aviation Sector in Egypt.
Founded in 2001, Restrata is a British-owned company headquartered in the United Arab Emirates. Restrata draws on a deep understanding of airport security and operations, new technology, and aviation regulation, and has previously worked with airports including Abu Dhabi International and London Heathrow.