World news story
British Chief of Defence Staff visits Lebanon
Chief of Defence Staff discusses UK support to the Lebanese Armed Forces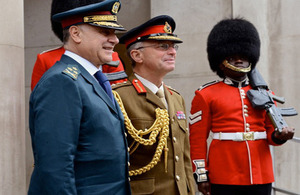 General Sir David Richards, British Chief of Defence Staff, visited Lebanon on 4-5 July in a demonstration of solidarity with Lebanon and the Lebanese Armed Forces (LAF). General Richards made this special visit to discuss a further increase in UK support to the LAF with his counterpart, General Jean Kahwaji, Commander of the Lebanese Armed Forces.
General Richards commended the professionalism demonstrated by the LAF's response to recent episodes of violence, and its role in securing Lebanon's borders. He restated the UK's strong commitment to Lebanon's stability, democracy and sovereignty. General Richards and General Kahwaji discussed military cooperation and assistance between Lebanon and the United Kingdom, including building the capacity of the Lebanese Armed Forces through an enhanced package of training and equipment, in line with the LAF's Capability Development Plan.
General Richards:
'I have great respect for the professionalism and leadership of the Lebanese Armed Forces. The LAF are playing a critical role in preserving Lebanon's hard-won peace in the face of the present challenges arising from the conflict in Syria.
Since 2010, the UK has already more than doubled our assistance to the LAF. We are now looking to increase it yet further. I am delighted to have had the chance to discuss personally with General Kahwaji the details of that assistance and how we can best support the LAF in their mission to defend Lebanon's sovereignty and stability.'
Useful information
Follow the British Embassy in Lebanon on Twitter: @UKinlebanon
Follow Ambassador Tom Fletcher on Twitter: @HMATomFletcher
Follow our Trade and Investment team on Twitter: @UKTILebanon
We are on Facebook: UK in Lebanon
Visit our website: www.gov.uk/government/world/Lebanon
Published 5 July 2013