World news story
British and German ambassadors visit Saint-Symphorien cemetery near Mons
British ambassador to Belgium Jonathan Brenton visited the cemetery in preparation for the commemorations of August 2014.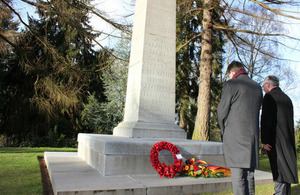 On 5 February 2014, British ambassador Jonathan Brenton held a joint visit with German ambassador to Belgium Eckart Cuntz to the Commonwealth War Graves Commission St Symphorien Military Cemetery near the city of Mons. This visit was part of preparations for the 4 August centenrary commemorations, when the British government will mark the start of the First World War.
British Ambassador Jonathan Brenton said:
It is great to visit Saint-Symphorien with the German ambassador. This is a real symbol of reconciliation and British-German friendship. We are grateful for the excellent cooperation with the city of Mons and the Commonwealth War Graves Commission in our preparations for the historic First World War centenary events this august.
Saint-Symphorien has an equal number of British and German soldiers, and is also the location where the first and last Commonwealth casualties of the war on the Western front – private John Parr (1898 – 21 August 1914) and Private George Ellison (1878 - 11 November 1918) are believed to be buried.
For more information on the First World War Centenary, please visit the British government's website dedicated to this topic.
Published 6 February 2014