World news story
British Ambassador welcomes the 'Prisoners and Detainees' Commission
The 11 member Commission, established by Royal Decree No 61/2013 of 3 September 2013, will monitor places of detention in order to prevent torture and ill-treatment.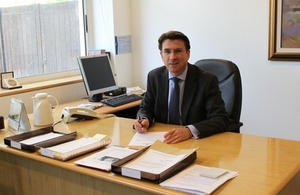 The decree stipulates that members of the Commission will be nominated by the Ombudsman, the National Institute for Human Rights, the Supreme Judicial Council and the Public Prosecution and formed by Royal decree. The members must be impartial and independent and trusted by all communities in Bahrain.
The independent Prisoners' and Detainees' Commission incorporates many elements of a National Preventive Mechanism established by States Parties to the Optional Protocol to the UN Convention against Torture (OPCAT). The UK welcomes the commitment made by the Government of Bahrain during the UN Human Rights Council Universal Periodic Review in 2012 to consider signing OPCAT.
British Ambassador, Iain Lindsay OBE, said:
As noted by the Association for the Prevention of Torture in their statement of 16 September, this is a positive step by the Government of Bahrain. The establishment of the Prisoners' and Detainees' Commission brings Bahrain a step closer to ratifying OPCAT, the UN torture prevention treaty. With the creation of the Ministry of Interior Ombudsman, and the work of the revamped National Institute for Human Rights, I welcome the steps Bahrain is taking to prevent torture in places of detention. I urge these institutions to fulfil their important mandate and the government to expedite its implementation of the recommendations of the Bahrain Independent Commission of Inquiry and those recommendations made under the Universal Periodic Review which it accepted in full or in part.
Published 23 September 2013