World news story
British Ambassador visits Palau
This was published under the 2010 to 2015 Conservative and Liberal Democrat coalition government
British Ambassador Asif Ahmad visited the Republic of Palau in May 2014.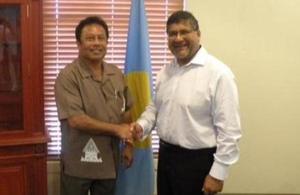 Ambassador Ahmad presented his credentials as non-resident Ambassador to His Excellency President Tommy E Remengesau Jr in a ceremony at the President's Office.
In a speech during the ceremony, Ambassador Ahmad said:
It is with great pleasure that I have the honour of presenting my credentials as Her Majesty Queen Elizabeth the Second's Ambassador to Palau. May I take this opportunity to congratulate you and the people of Palau as you mark the 20th year of independence… The distance between the UK and Palau is 7,570 miles. But that distance has not made us distant friends… I hope that during my term as Ambassador, we will see more evidence of the growing links between our two countries.
During his visit, Ambassador Ahmad also met with Minister of State Billy G Kuartei and the Palau Chamber of Commerce, among others, to explore ways to boost friendly ties between Palau and the UK.
Read the Ambassador's full speech.