World news story
HMA Fiona Clouder spoke about Chile's energy market at CIREC Week
Ambassador Clouder commented on Chile-UK collaboration in renewables and the transition towards a low carbon economy at energy congress.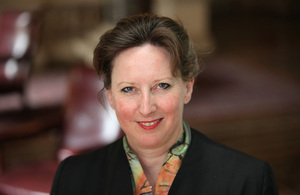 Good morning. Deputy Minister Jara, Ambassador Robles Fraga, ladies and gentlemen. Thank you to Green Power Conferences for the invitation to join you. It is wonderful to see such a wide range of participation from government, business and academic leaders here today.
As a UK based company, we are pleased to support Green Power Conferences in the organisation of this year's CIREC week. Through these events, Green Power Conferences is helping to create international platforms that allow all of us to showcase new technologies, discuss current trends, and share best practices related to renewable energy, with the end goal of developing a low carbon global economy.
In Chile, the UK and in many other countries we are all asking similar questions regarding the evolution of our energy markets within the framework of adhering to our COP21 agreements:
What policies can best support a low carbon economy? How can the government and private sector work together to increase renewable energy supply within energy matrices? And how can we lead in developing innovative clean energy technologies that will revolutionize the global market?
Evolution of UK energy market:
As the UK begins the domestic process of ratifying the Paris Agreement, our ambitious climate change law, which enshrines the UK's commitment to reduce emissions from 1990 levels by 80% by 2050, is a major factor in the evolution of our energy market. In a historic first, in the past six months the UK has generated more energy from solar panels than from coal-fired power plants. This is a great milestone.
In the past year, the UK's capacity for solar energy has doubled from 6GW to a current figure of 12GW. At the same time, the UK is the first developed economy to commit to phase out unabated coal by 2025. This policy will guide our energy market to achieve our target of at least 30 % electricity from renewable sources by 2020.
Link to Chile's Energy Market
Similar to the UK, the Chilean energy market is also evolving rapidly and is emerging as a global hub for renewables. Renewables are taking the lead at energy auctions. In 2015 Chile was one of the top 10 global renewable investors with $3.4 billion in total investment. To add to this, Chile's own Energy 2050 strategy is serving as the compass for a long-term vision of using renewable energy as the future backbone for Chile's energy market.
British Embassy Renewable Energy Work in Chile
At the British Embassy in Santiago we are working with Chile in its low carbon transition and in becoming an innovative global renewable energy hub. With funding from the UK government, we are currently collaborating with UK and Chilean partners on projects such as the development of Chile's Energy 2050 calculator with the Ministry of Energy. The calculator will build an energy pathway for Chile that aligns with its national emission reduction targets.
In the context of London's year of green finance we are also working together with public and private sector actors in Chile to share best practices and experiences on how to leverage more private sector green finance and government support for renewable energy projects. The Governor of the Bank of England, Mark Carney, has recently stated that green finance is a major opportunity for reducing climate change risks in emerging economies. The issuance of green bonds - for example, to help finance renewable power projects aimed at reducing carbon emissions -could double in 2016 from last year's $42bn.
We also see the mining sector as an area where renewable energy and energy efficiency practices can be used to make the industry more sustainable. Our Department of International Trade and British Chamber of Commerce are working closely in the mining and energy sectors to introduce new efficient innovative technologies and increase UK investment in Chile in these areas.
Tomorrow morning our Embassy team is partnering with Green Power Conferences to host a mining breakfast briefing which will provide more insight into the interconnected relationship between mining and renewables and explore future scenarios. This is an open event for CIREC delegates so please feel free to join us.
Thank you.
Published 26 October 2016