World news story
British Ambassador to Cairo meets with group of Egyptian students
The British Ambassador to Cairo, James Watt, met with Economics and Political Science students from Future University.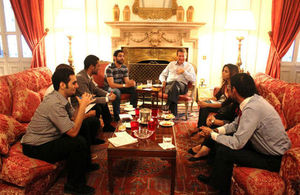 On Monday September 9, the British Ambassador to Cairo, James Watt, met with Economics and Political Science students from Future University, who support Tamarrud. They discussed the recent developments in Egypt. The discussion covered the events of 30 June, British support to Egypt, the potential of young people, and the UK role over the coming period in Egypt.
The Ambassador gave an overview of the UK perception of and stance on developments in Egypt over the last ten months. HMA James Watt said that there were clear signs since November 2012 that the government was mismanaging the country. He explained that while the UK does not support military intervention in a democracy, it is important to recognise that this is a complex case and that we will want to look forward, not backwards. He emphasised British support to Egypt, saying that "Britain has always stood with the Egyptian people". The Ambassador denied the accusation that the UK government is a supporter of the Muslim Brotherhood. The Ambassador and his guests agreed that it was essential that a fair platform and space to speak needs to be created for the political process in Egypt to move forward.
The Ambassador's guests emphasised that the perception of June 30 needs to be clarified and improved in the West, to which HMA James Watt responded that it is not easy for some people to get a complete picture yet because of the confusing nature of the scene in Egypt and the obstacles that journalists have faced.
When asked how the UK is supporting Egypt, HMA James Watt stated that the UK, which is the biggest European investor in Egypt, did not suspend its strong bilateral relations to Egypt. He also pointed out that British support is evident in other areas; such as education. The annual Chevening scholarship has been granted to twenty four Egyptian students to study in the UK this year, and a celebration was held in their honour last Thursday at the Embassy. It is also evident, he said, in the activities of the British council, which cover educational and cultural development in Egypt.
The Ambassador praised the youth and the Tamarrud movement for their enthusiasm and openness to dialogue. Finally, the Ambassador assured his guests that there are some positive indicators of progress in Egypt and that the UK is optimistic about the future of Egypt, especially with youth who have got a "passionate belief in [their] future," like his guests.
Published 11 September 2013
Last updated 12 September 2013
+ show all updates
Translation added
Summary ammended
First published.