World news story
British Ambassador sends his best wishes on the occasion of Eid Al Fitr
The British Ambassador, Iain Lindsay OBE, issues statement to mark the end of the holy month of Ramadan.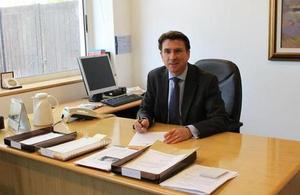 I would like to send my best wishes to His Majesty King Hamad bin Isa Al Khalifa, His Royal Highness Crown Prince Salman bin Hamad Al Khalifa, His Royal Highness Prime Minister Khalifa bin Salman Al Khalifa and the people of Kingdom of Bahrain, as they celebrate Eid Al Fitr.
During my four years as Her Majesty's Ambassador to the Kingdom of Bahrain, I have enjoyed visiting the traditional majalis during Ramadan and Eid, meeting Bahrainis from all walks of life and discussing their hopes for the future, namely peace and security, reconciliation and prosperity. Eid Al Fitr which embodies the spirit of compassion provides another opportunity to promote unity and understanding.
I would like to thank the Bahraini people for their generous friendship, kindness and hospitality throughout my time here. I will leave with special memories that will stay with me forever.
I wish you all Eid Mubarak
Published 16 July 2015