World news story
British Ambassador sends his best wishes on the occasion of Eid Al Fitr
The British Ambassador, Iain Lindsay, OBE issued the following statement, marking the end of the holy month of Ramadan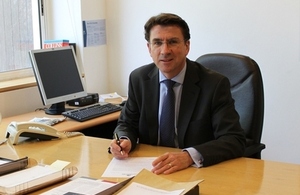 I send my best wishes to the people of Kingdom of Bahrain as they celebrate Eid Al Fitr, marking the end of the holy month of Ramadan.
I enjoyed visiting the traditional Majalis during Ramadan, meeting Bahrainis from all walks of life and discussing their hopes for peace and security, reconciliation and prosperity, which I share. I look forward to attending various Eid Majalis. Eid Al Fitr is another opportunity to promote harmony and understanding.
I wish everyone Eid Mubarak.
Published 27 July 2014