World news story
British Ambassador presents UNHCR Director 320,000 EGP for Syrian refugees in Egypt
HE British Ambassador to Egypt presents UNHCR Director a 320,000 EGP cheque to support Syrian refugees in Egypt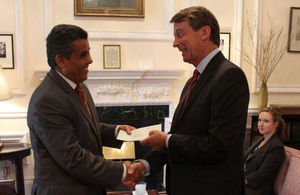 On the 4th of September The British Ambassador to Egypt met with the UNHCR Regional Director, Mr. Mohamed Dayri, and presented him a cheque with the funds raised at the benefit concert held last May to support Syrian refugees in Egypt.
The Concert was organized last May by the British Embassy at the Cairo Opera House, and was attended by hundreds of people who generously donated. The Embassy managed to collect 320,000.00 Egyptian pounds at the fund-raiser with its partner at this exciting venture; the UNHCR.
The suffering of the Syrian people, and a determination to offer them moral and practical support, was on the minds of audience and performers alike.
The atmosphere in the auditorium was charged with emotion, where the inspired conducting Maestro Nayer Nagui and the orchestra created an elated atmosphere with their music. The beautiful Syrian soprano, Racha Rizk, and opposite her the talented young Egyptian tenor, Ragaa El Din Ahmed, brought passion and intensity to their programme of operatic arias. The great Iraqi oud-player, Naseer Shamma, gave a thrilling and incomparable performance. The Syrian part of the programme was brought by Abdel Kader Abul Seoud with a deeply moving series of songs starting with a famous mawwal.
Published 12 September 2013
Last updated 12 September 2013
+ show all updates
updated
Added translation