World news story
British Ambassador praised Czech commandos in Chrudim
British Ambassador Jan Thompson witnessed martial arts training and parachute jumps.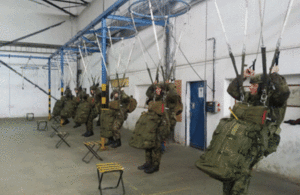 The jumps from the combat height of 300 metres by elite paratroopers of the 43 Airborne Battalion stationed in Chrudim. The Ambassador also inspected British-made Land Rover military vehicles.
Jan Thompson said:
Czech commandos are most impressive combatants.
Chrudim paratroopers are the pride of the Czech Army. The United Kingdom wishes to express deepest gratitude for the service which Czech paratroopers provide in allied operations. Czech and British armed forces jointly contribute to safety in Europe.
The Ambassador has met the Battalion's deputy commander Ivo Zelinka who served in Helmand province of Afganistan. The airborne battalion has served together with British forces for example in Afganistan's Badakshan and Logar, the Macedonian operation Essential Harvest, in SFOR and IFOR contingents in Bosnia and Herzegovina. In 2010, the battalion cooperated with the British military trainers stationed in Vyškov near Brno in operational mentoring and liaison courses.
Maj Zelinka said:
The Chrudim Airborne Battalion is the only commando type force in the Czech army. The Battalion is the main Czech expeditionary force with high mobility. The absolute majority of the Battalion troops have served in foreign operations more than once.
The Airborne Battalion is equipped with British vehicles, such as Land Rover 90, LR 110 ST, LR 110 HT, LR 130 (ambulance) and LR 130 ARM4 Cayman fitted with two machine guns.
Thompson added:
Even though the United Kingdom is leaving the European Union, we stay in Europe, Thompson said. European and British security are joined at the hip. Czech Republic is an important ally of the United Kingdom.
The Ambassador laid a wreath to commemorate members of the Battalion who died in action.
Published 9 February 2017