World news story
British Ambassador opens new Visa Application Centre in Surabaya
The new UK Visa Application Centre opens every Thursday.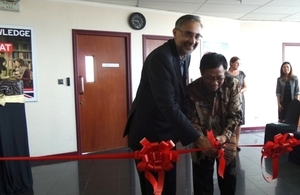 British Ambassador Moazzam Malik opened a new UK Visa Application Centre in Surabaya on 14 January 2016.
Speaking at the event, the Ambassador said:
The opening of the Visa Centre will make it easier and more convenient for residents of Surabaya and East Java to get their visas to travel to the UK. We want more people from Surabaya and East Java to visit the UK to study, for holidays and to do business. The UK is establishing a greater presence in Surabaya to build stronger links between the UK and the people of Indonesia's second city. We look forward to welcoming you to Britain.
The new centre will initially be open every Thursday offering our standard and priority 3-5 day services. The new centre will make the UK visa service more accessible to East Java's 39 million inhabitants who, until now, have had to travel to Jakarta or Bali to submit their visa application.
The centre is the latest of the expansion of UK activity in Surabaya. Since last year, we have opened a British Council English Language Centre, appointed a full time representative of the British Chamber of Commerce and opened a British Embassy Liaison office in Surabaya.
This is a sign of the growing importance the UK attaches to this region and to Indonesia more widely.
Notes to editors:
The UK issued 38,677 visas to Indonesian nationals in the year ending September 2015 – a 3% rise on the previous year and an increase of more than 50% from 2010.

96% of Indonesian customers who apply for a visa are successful.

The new centre is a 'user-pay' visa application centre. It will cost applicants £52 to use the centre.

We have also accredited a new clinic in Surabaya to carry out tuberculosis testing, meaning that local customers coming to the UK for longer than six months do not have to travel to Jakarta, Tangerang or Bali for their certificate.

The average processing time for a non-settlement visa is eight days. 99% of decisions were made within our 15 working day service standard.

We have two Visa Application Centres in Indonesia already – in Jakarta and Bali. Applicants can apply, pay and book a visa application centre appointment online.

The New Visa Application Centre is located at Graha Pena Building 15th floor, Jl. A. Yani no.88, Surabaya. It will be open every Thursday.

More information about our services is online at www.vfsglobal.co.uk/Indonesia.
Published 19 January 2016