World news story
British Ambassador Moazzam Malik visits East Java
The visit is part of the UK government commitment to strengthen UK-RI relationship.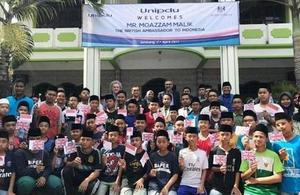 British Ambassador to Indonesia, Moazzam Malik, has visited East Java to gain a deeper knowledge and understanding the region's state and Islamic education systems, to promote English language learning and to explore opportunities for collaboration between schools in the UK and East Java.
The Ambassador said:
Indonesia has a good track record as a tolerant and diverse society. The role of schools and universities in Indonesia is essential in promoting tolerance underpinned by pancasila among students, staff, different ethnic groups, and wider society. There is much the UK can learn from Indonesia's experience; and much that we can also share as a democractic and diverse country. I am keen to explore how we can build partnerships between British and Indonesian organisations, schools and universities so that religious leaders and young people are able to share their experiences and ideas.
A key to this – as much else – is the ability to communicate effectively. English language has become the global language of busines, education and culture. As Indonesia takes an increasing role on the world stage it will be important that its young people speak good English so that they are able to engage internationally. I am here along side British Council colleagues to look at how we can help improve English language teaching in this region.
During the trip the Ambassador was visiting Malang, Pare, Jombang, and Surabaya where he met staff and students from a number of universities and Pesantren (Islamic boarding school). During his visit to Jombang, he paid his respects at the tomb of the late President of Indonesia, Abdurrahman Wahid.
Published 3 November 2017