World news story
British Ambassador & Minister of Labour launch UK-funded project
This UK-funded project helps resolve workplace disputes more quickly and at a lower cost to the Jordanian economy.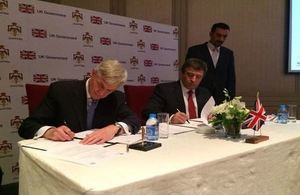 On 15 December, Minister for Labour HE Nidal Qatamin and Edward Oakden, the British Ambassador to Jordan, signed a Memorandum of Understanding to launch a UK-funded project to help resolve workplace disputes more quickly and at a lower cost to the Jordanian economy.
The three-year project, funded by the British Embassy, will strengthen the Jordanian labour market by improving the capacity to anticipate, avoid and alleviate the impact of labour disputes through improved grievance, negotiation and conciliation procedures.
Speaking at the MoU signing, Ambassador Oakden said: "His Majesty has clearly set out his ambitious plans for the Jordanian economy with the Vision 2025 strategy. I am delighted that the UK is able to support that vision via this programme, and others, which will help strengthen the Jordanian economy and make Jordan more prosperous."
The project will work closely with Ministry of Labour staff to build a stronger and more streamlined system for resolving workplace disputes, and to ensure better workplace relations. The project will also work with the Ministry of Labour and Ministry of Justice to pilot alternative methods of dispute resolution and identify policy recommendations for improving labour dispute resolution processes in the longer term. In addition, the project aims to help bridge gaps and increase avenues for dialogue between the Government, civil society, private sector stakeholders, and trade unions and workers in order to improve the quality of labour dispute outcomes. Through these activities, the project aims to reduce the costs to Jordanian economy and tensions in society arising from unresolved labour disputes.
The UK's growing partnership with Jordan has included over $0.5 billion in support for a variety of programmes since 2011. In 2015 alone the UK will provide more than $100 million in support.
Background:
According to data from the Ministry of Labour, the number of labour disputes more than doubled between 2009 and 2013 and the upward trend in the number of workplace disputes has continued over the last two years. These disputes involve both public and private sectors, and have restricted business expansion and reduced business appetite for hiring new employees.
The British Embassy in Amman will be working with Adam Smith International, a UK-based international development consultancy firm, to implement this project.
Published 16 December 2015