World news story
British Ambassador John Kittmer visits Thessaloniki (13-15 March)
The British Ambassador, John Kittmer, made a 3-day official visit to Thessaloniki, his first regional visit since presenting his credentials in early February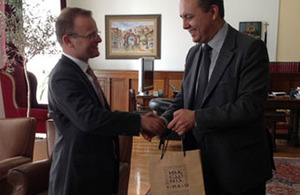 During his stay, he had a series of meetings with national and local government officials, Bishop Anthimos, academics and business representatives, further enhancing the relations between the UK and northern Greece.
On Wednesday 14/03 Mr Kittmer, called on Mr Theodore Karaoglou, Minister for Macedonia and Thrace. The two men discussed a range of issues within the Minister's portfolio, including the challenges and opportunities that Thessaloniki and the region are facing as a result of the economic crisis. The Ambassador raised the Greek Government's privatisation programme, the potential for foreign direct investment, and the city's flourishing higher education and technology sectors. The scope for further bilateral cooperation was discussed.
The Ambassador later met Ms Magdalini Karakoli, Alternate Secretary-General for Economic Relations and Development Cooperation, MFA, and Professor Eleftherios Iakovou, President of the Alexander Innovation Zone. The discussions focused on growth, technology clusters, the role of higher education, transnational education links, business and investment. Mr Kittmer, said:
It is always a pleasure to be in Thessaloniki - all the more so on my first official visit. This is a city and a region with many advantages, not least the presence of a strategically important port and a flourishing university sector, with a highly educated and enterprising workforce. I am inspired by what I have heard so far about a vision for growth and prosperity, and am looking for ways in which my team can contribute.
On 14/03, the British Ambassador Mr John Kittmer, met Mr Apostolos Tzitzikostas, Head of Regional Administration of Central Macedonia, and then Mr Nikos Pentzos, President of the Federation of Industries of Northern Greece. In the afternoon he will be meet students of the International Relations School of the University of Macedonia to discuss UK views on EU related issues.
The British Ambassador's official visit to Thessaloniki concluded on Friday 15/03 following discussions with Mayor Boutaris and Bishop Anthimos.
Further information:
Follow British Ambassador on Twitter.
Published 22 March 2013