British Ambassador John Casson says improving education "top of the agenda"
British Ambassador John Casson says improving education "top of the agenda"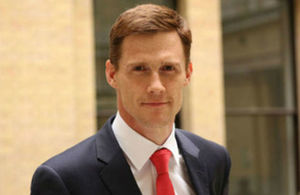 British Ambassador John Casson yesterday said that the UK is committed to help Egypt improve education standards as an essential basis for the country's long-term stability and prosperity.
Casson said that the UK's global reputation as the "education nation" and its experience of leading transformation in education systems around the world put the UK in a unique position to help Egypt address challenges in education.
Casson said:
Harnessing British expertise and helping improve the Egyptian education system is at the top of my agenda as Ambassador in Egypt. Young people are this country's greatest asset, but the country faces real difficulties in the future if the education system cannot equip them for modern life in the 21st century.

Schools like BICC show that the UK is the "education nation" and can deliver world-class education. But a world-class education is not just for the few. I am committed to working with Egyptian policymakers to encourage deep-seated change in the Egyptian education system, so that in the future every young Egyptian boy and girl gets the education, skills, and the opportunities they deserve.
Casson's remarks came during the launch of the new British International College in Cairo (BICC) at a ceremony hosted at the British Embassy in Cairo.
"British Education Ltd", the private UK company that manages the school, promises that BICC will offer high quality teaching, outstanding learning opportunities, as well as world-class facilities such as a multi-purpose theatre and a state of the art semi-Olympic swimming pool.
The school, which is set to open on 5 September 2016, will implement the Cambridge International Curriculum through primary and secondary levels, meaning that students will sit internationally recognised examinations such as iGCSEs and the International Baccalaureate.
School Principal Mark Colston said:
This school is a marriage of minds and hearts ensuring our children have the rooted confidence and the thirst for knowledge and innovation needed to embrace the challenges and opportunities of our modern, fast changing world. We seek to provide the environments children of all ages need to develop their best selves – to be the socially responsible, creative thinkers we need as our future leaders.
The British education system is widely regarded as one of the best in the world. The opening of the new BICC comes as many other British companies such as Pearson and Cambridge International Examinations continue to provide education services in Egypt.
Additionally, the UK government offers a wide package of education opportunities for Egyptians including Chevening Scholarships for Master's degrees in the UK, PhDs and research opportunities under the Newton Mosharafa Fund for science and innovation, as well as English classes, delivery of examinations, and professional skills training all provided by the British Council.
Published 15 May 2016