World news story
British Ambassador builds understanding between UK and Lao government officials
This was published under the 2010 to 2015 Conservative and Liberal Democrat coalition government
Ambassador Philip Malone shares information about the UK 's politics and foreign policy approach with Lao government officials.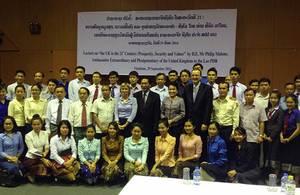 As the Lao PDR prepares to officially re-open its Embassy in London later this year, the British Embassy Vientiane organised an event with the Institute of Foreign Affairs of the Lao PDR earlier this week to build understanding within Lao government ministries about the UK's politics and foreign policy approach.
Addressing an audience of nearly 120 Lao government officials at the International Cooperation Training Center (ITCT), Ambassador Malone's speech, entitled The UK in the 21st Century: Prosperity, Security and Values focused on the UK's three priority areas in its foreign policy, as well as topical subjects in UK domestic politics including the recent referendum on the independence of Scotland and the UK's relationship with the European Union.
Speaking on the UK prosperity agenda, Ambassador Malone said:
We are intensifying our engagement with emerging economies of the world where so much economic opportunities now lies, looking beyond our shores for new partners and new possibilities, such as here is in Laos, where we have a number of major British companies already operating such as Unilever, GlaxoSmithKline, Imperial Tobacco, Jaguar Land Rover and JCB, as well as others looking to come into the Lao market. This approach will deliver results for Britain.
The lecture was combined with a presentation on the Chevening Scholarship programme, the flagship scholarship programme of the British Foreign and Commonwealth Office, to engage young Lao officials from across the Lao government interested in studying in the UK.
The UK and Laos will strengthen ties further later this year as Lao PDR is scheduled to re-open its Embassy in London after an absence of almost 30 years.
Document information
Published: 29 September 2014