World news story
British Ambassador attends the launch of Tesco products in Bahrain
Leading Bahraini retailer MegaMart to introduce over 2,000 Tesco products on Bahrain shelves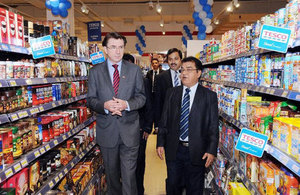 Mega Mart is proud to announce that it has signed an exclusive agreement with MENA Holdings Group Ltd, M H Group - Tesco's exclusive distributor of private label for the Middle East and North Africa. This agreement ensures that MegaMart is now the only retailer in Bahrain authorised to stock the full range of Tesco private label products.
This range includes grocery, health and beauty, frozen, non-food and fresh products and will be rolled out to all stores over the next few weeks.
Mega Mart opened its first supermarket in 1994 in Bahrain and since then has expanded throughout the Kingdom. It is part of an International Group that has operations in 25 countries.
Over 1500 Tesco products are currently available in the 8 MegaMart outlets in the Kingdom, as well as 2 outlets under the Macro Mart banner. The number of Tesco products available on-shelf is expected to reach 2500 by December 2014.
Stage one of the rollout will include the introduction of Tesco frozen (e.g. ice-cream, frozen vegetables and readymade meals); dry grocery and FMCG products (e.g. cereals, canned goods, nuts, confectionery, oil and sauces); non-foods such as detergents, hand wash and cosmetics as well as Tesco Organic and Tesco Finest ranges. The supermarket chain also expects to introduce in the near future seasonal, fresh British produce and a range of short shelf life perishables such as dairy, finest English cheeses, cold cut meats and bakery items.
British Ambassador His Excellency Iain Linday OBE was present at the event, together with his UK Trade & Investment team. "I am delighted to attend MegaMart's launch of Tesco products in Bahrain and congratulate everyone concerned with this landmark agreement. Tesco's scale means that they can provide affordable, high-quality food to people around the world and create value for customers. This year, they completed work to improve their 8,000 core Tesco products, a good number of which will now be available in Mega Mart stores in Bahrain. The arrival of this highly regarded UK brand will I'm sure be welcomed across the Island."
R.V. Waghnani, General Manager of MegaMart added, ''Our goal is always to offer the very best for our customers and with the addition of Tesco products to our portfolio we are leading the way by bringing the best of British food products to Bahraini consumers.''
"The Tesco private label range is world renowned for great quality, choice, and price. These exceptional products delight millions of customers in many countries everyday and we are very pleased that Mega Mart and Macro Mart customers will now be able to enjoy the same products in their local stores," said Darren Craven, Group Chief Executive Officer M H Group (MENA Holdings Group Ltd)
Published 14 October 2014