World news story
British Ambassador attended First Women's Congress in Prague
The main theme of the event was women in the labour market.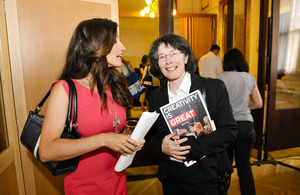 However, the general aim of the Congress is to create a platform for networking, inspiring and mobilising women. One of the results of the Congress is a resolution with proposals for change and aims to strive for. The resolution will be handed to both chambers of the Parliament on 19th June 2013 which is International Gender Equality Day.
The program of the Congress was very varied – from interactive workshops and international panels, through to documentary screenings and debates, and ending with a program for children and a great lunch provided by the organisers. Several leading female public figures contributed to the success of the Congress, including Alena Gajduskova, vice chair of the Senate; Vera Budway-Strobach, program director for diversity and inclusion at Erste (Ceska sporitelna); and Viviane Reding, the EU Commissioner for justice, who sent a video message of support.
The British Ambassador Sian MacLeod was therefore pleased to speak on one of the panels to explain her view of why the initiative is both important and very much needed. In her speech, delivered in Czech, she focused on the fact that equality means not only equality of benefit but also equality of responsibility. She talked about how women are represented in public life and how women contribute to public life. She specifically agreed with one of the points in the resolution, namely that there should be nothing strange about the Prime Minister or President being a woman. In order to illustrate this she told a story about a little girl in the UK in the 1980s, when Mrs Margaret Thatcher was in no. 10 Downing Street, asking her mother whether men were allowed to be Prime Minister or Head of State.
Overall the first Women's Congress was a great success and we wish the organisers, who worked on a voluntary basis, many successful years to come. Outcomes of the Congress, including photos, videos and the resolution, will be made available on the Congress web pages. You can also follow the Congress via Facebook.
Published 20 June 2013
Last updated 20 June 2013
+ show all updates
A typo identified.
One of the links had to be reloaded.
Added translation