World news story
Britain in the world and 'Brexit'
High Commissioner Michael Nevin affirms Britain's place in the world now and after exiting from the European Union (EU).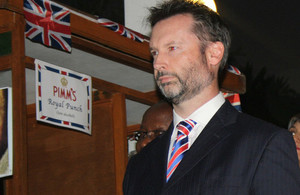 On 23 June, the British people voted to leave the European Union (EU). New British Prime Minister Theresa May has been clear that Brexit means Brexit. But does this mean that the UK will be taking a single step back from the centre of the international stage? The answer is a resounding no.
Britain will build a new future from a position of strength. Outward facing, internationally focused and ready to embrace the new opportunities that Brexit brings. The referendum, and the smooth transition to a new Prime Minister, are representative of the strength of our democracy, its institutions and processes that many aspire to for their own countries.
The UK is even more committed to working with our international partners, including European and African partners, fully playing our part in ensuring a safer, healthier and more prosperous world. Our diplomatic network is one of the largest and most influential in the world – represented in over 85% of the world's countries, including Malawi. We are a permanent member of the UN Security Council, of NATO, of the G7 and the Commonwealth.
The UK was one of the first to meet the United Nations target of spending 0.7% of gross national income on international development, from which Malawi benefits greatly. This policy, now enshrined in law, alongside the UK's commitment to spend 2% of its income on defence, is helping to shape the world around us.
We will continue to play a leading role in the responses to the global challenges of our time, such as terrorism, climate change, the scourge of corruption and deadly diseases such as the Ebola virus. We will continue to work with our partners overseas to tackle people smuggling, fraud and organised crime cartels who seek to exploit the vulnerable for personal gain.
The UK through our development effort is a leader in working to end extreme poverty. We will not renege on the promises we have made. We are committed to the Global Goal target of achieving zero extreme poverty by 2030, investing in programmes that provide health, education, water and tackle violence against girls and women. These objectives very much include Malawi.
The UK has been and always will be a trading nation and overseas partners are guaranteed a strong, business friendly environment. While the nature of our relationship with the EU is still to be determined, we will want the strongest possible economic links with our European neighbours, as well as our close friends in the Commonwealth and many others. .
We were the fastest growing economy in the G7 last year, currently the 5th largest economy in the world and a great place to do business - that will not change. London is regarded as the world's leading financial hub and its creative and entrepreneurial spirit continues to thrive with a wealth of opportunities for our trading partners.
Britain is a tolerant and diverse country and welcomes tourists who visit her shores with open arms. A record 36 million visited last year enjoying the historic sites, cultural centres, landmarks and attractions that can be found up and down the land. That included many Malawians: over 85% of applicants found that our visa regulations and processes worked for them, giving entry to see for themselves what the UK has to offer.
Our education institutions have world renown - Britain is home to four of the world's top ten universities. The UK offers foreign students a world-class education, globally respected qualifications to help with their career prospects. Aside from those who study privately, this year we are offering 14 prestigious Chevening Scholarships to Malawians, with others studying in the UK under the Commonwealth Scholarships programme.
The British Council is the world's leading cultural relations organisation, reaching over 500m people in over 115 countries each year, including Malawi while the Premier League is the most watched football league in the world. The BBC World Service is the world's largest international broadcaster, broadcasting news, speech and discussions in 28 languages and reaches 246 million people worldwide, including in Malawi on 98.0 FM.
We want to build further on our profound links with Africa. Our diplomatic network of 36 African posts, 19 British Council offices and 16 DFID offices means the UK is well placed to promote the UK as Africa's key partner. Last year the UK spent £4.8bn in Sub Saharan Africa in 2015, including multilateral contributions
As with Malawi, we share similar legal frameworks, systems and institutions so we are well placed to support good governance and rule of law on the continent.
I do not highlight all this to pompously boast about the UK. But to emphasise that despite leaving the EU, the UK has many other strings to its bow and therefore a strong platform to continue its role in the world. Our ambition is use "Brexit" as a springboard to even deeper and wider relationships that create even greater prosperity and security for the UK and its partners.
This is what "Global Britain" is all about and which we will make a success of.
Published 5 August 2016