World news story
Bringing GREAT British food to Belgium
British Ambassador and UKTI introduce Belgians to GREAT British food and drink from Yorkshire and the Humber.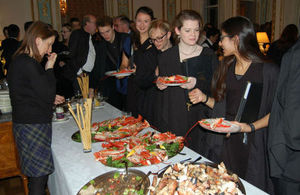 At a special Christmas event, British Ambassador Jonathan Brenton has promoted British cuisine to over 200 guests in Belgium. With support from UK Trade & Investment, companies from Yorkshire and the Humber showcased the region's finest food and drink products to Belgian importers, food specialists, business and political contacts. The event highlighted British ale and cakes, game, seafood, and sausages, Yorkshire puddings and world famous cheeses, as well as ethnic and vegetarian food.
Graham Percival, UKTI Deputy Director of Yorkshire & Humber said:
The Yorkshire & the Humber region is the UK's biggest food and drink producing area generating a yearly turnover of £7.1 billion. We are delighted that the British Ambassador gave us the opportunity to showcase what we see as some of the finest specialty food and drink products in the UK.
British Ambassador to Belgium Jonathan Brenton said:
This is a great time to promote Yorkshire and the Humber – a destination reckoned by the Lonely Planet to be one of the world's top tourism destinations and where the epic cycling Tour de France will begin in Leeds next year. As someone whose grandmother was from Yorkshire, I am proud to introduce Belgium to our some of the best food and drink in Britain.
Further information:
more than 15,000 companies in Yorkshire and the Humber's food and drink sector
sector employs an estimated 53,000 people
region is the home of large companies such as Nestlé, Heinz, Warburtons and Asda-Walmart
base for over 1,100 smaller food and drink processing companies
75% of the UK's fish processing output is located on the Yorkshire and Humber coast
one third of the UK's beer is produced in the region
Contacts
For more information on the work of UK Trade & Investment and the British Embassy Brussels, check out our priority on increasing trade between Belgium and the UK. You can also follow us on Facebook and on Twitter with @UKTI_BE and @UKinBelgium.  
All pictures from the event can be found on our Facebook page
Published 18 December 2013