Press release
Bradford rapist will spend longer behind bars
Lee Duffy has sentence increased from 8 to 13 years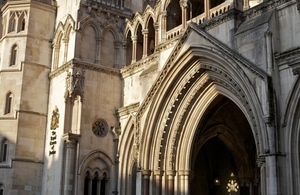 A rapist from Bradford will spend longer in prison after Solicitor General Robert Buckland QC MP referred his original sentence to the Court of Appeal as unduly lenient.
Lee Duffy, 26, was aged between 19 and 22 when he carried out his violent attacks against 3 separate women aged between 16 and 19.
Duffy was convicted of 4 counts of rape and 3 counts of causing actual bodily harm at Bradford Crown Court in June this year. He was originally sentenced to 8 years in prison, but the Court of Appeal quashed that sentence and he will now serve 13 years.
Speaking after the hearing, the Solicitor General said:
"These crimes deserved a tougher punishment and I am pleased the Court has seen fit to increase the prison term. This demonstrates our commitment to victims of sexual offences that they will be taken seriously.
"I hope the increased sentence brings some closure to the victims, and they can begin to move on from what will have been a traumatic time."
Published 6 October 2017