News story
Boys Brigade makes a difference in Scotland's local communities
Scottish Secretary goes back to his Boys Brigade roots as he presents this years "Make A Difference Award"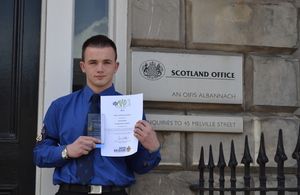 The Secretary of State for Scotland hailed the impact that the work the Boys Brigade (BB) Scotland has on both local communities and young people in Scotland as he met with Chris Mollins from the 1st Bearsden BB Company, to present him with this years "Make a Difference Award" at the Scotland Office in Edinburgh this afternoon.
The "Make a Difference Award" is given to the BB Scotland member who has made the greatest contribution to their local community. Working for his Queen's badge and Duke of Edinburgh Award with the charity Riding for the Disabled, Chris carried out over 300 hours of volunteering, far exceeding the hours required and in the process provided guidance and leadership for younger boys in his own company.
The BB was founded in Glasgow on 4th October 1883 by Sir William Alexander Smith. Over the past 130 years the BB has grown in to a worldwide movement providing opportunities for young people to meet together in their communities and engage and participate in a range of activities locally, nationally and globally developing skills and confidence in the process.
Today, the BB Scotland has over 20,000 members in around 450 groups and is represented in every local authority in Scotland. Along with the Secretary of State other prominent BB members include former Prime Minister Gordon Brown MP, former Liberal party leader Lord Steel of Aikwood, and both the current and future managers of Manchester United, Sir Alex Ferguson and David Moyes.
Michael Moore said:
"I was very pleased to meet with the BB Scotland and present Chris with this year's "Make a Difference Award". With the hundreds of hours of volunteering that he has undertaken in the local community it is an award that he thoroughly deserves.
"As a former member of 2nd Wishaw, the BB Scotland is close to my heart and I know that they all work hard looking out for others, making a tremendous impact in the local community in the process. Through the range of activities that they organise for young people across the country, they harness and develop qualities such as communication and leadership skills which will stand them in great stead for the future."
Bill Stevenson, Boys Brigade Director for Scotland - who joined Chris Mollins at the presentation - said:
"I am delighted that the Secretary of State one of our most prominent ex-members is able to present Chris with this special award today. Like so many members of the BB Chris has made a tremendous difference by volunteering in his local community. This year around 400 young men will receive the Queen's Badge which means that collectively they have spent well over 20,000 hours helping to make Scotland a better place. The BB is growing again and all this hard work demonstrates that we are as relevant today as when we were founded almost 130 years ago."
Published 16 May 2013