World news story
Boris Johnson, Mayor of London visits Singapore
Mr Boris Johnson, the Mayor of London, will visit Singapore from 27 to 29 November 2014.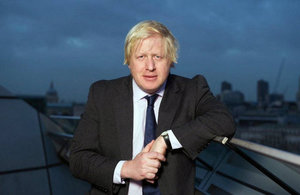 He will be accompanied by a group of CEOs representing a range of business sectors including financial services, smart cities and infrastructure development.
During his visit, the Mayor will call on Singapore Prime Minister Lee Hsien Loong at the Istana and undertake a wide-ranging schedule of activities including:
support for a FinTech Trade Mission which also involves the InfoComm Development Authority of Singapore
meetings with various Singapore and UK financial and banking institutions
a call on the Land Transport Authority
a ride on the Singapore Mass Rapid Transit (SMRT)
a visit to the Singapore Botanic Gardens
interviews with Singapore media.
Speaking in advance of the visit, HE Antony Phillipson, the British High Commissioner in Singapore, said:
The visit to Singapore this week by Boris Johnson, the Mayor of London will highlight the deep and enduring links between Singapore and London. His support for the FinTech trade mission, and the make up of the delegation that is travelling with him, illustrates the scope for developing those links still further in key sectors for both our countries.
His call on Singapore's Prime Minister will also continue the high level engagement between us, including the visits to the UK this year by both President Tony Tan and PM Lee and visits to Singapore by the Chancellor of the Exchequer in February 2014 as well as several other Ministers and senior officials.
Further Information
Follow the British High Commissioner to Singapore on Twitter @HCAPhillipson
Follow the British High Commission Singapore on Twitter @ukinsingapore
Follow the British High Commission Singapore on Facebook
Published 25 November 2014