Board of Trade Awards announced (2018)
DIT's Board of Trade Awards will celebrate companies that are bringing innovation and prosperity to the UK.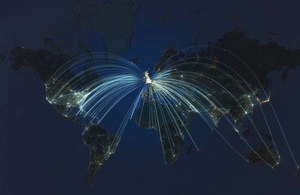 The Department for International Trade (DIT) works with thousands of businesses. We want to celebrate those which are showing exceptional innovation, delivering prosperity to their local communities, and championing free trade.
Our staff care passionately about the businesses they support. The Board of Trade Awards allow us to recognise businesses that we believe deserve special recognition for their role within their communities.
We also want to showcase successes in trade and investment across the whole of the UK, from all sectors, and amongst businesses of all shapes and sizes.
Board of Trade Awards will be given out on an annual basis at Board of Trade meetings as it travels round the UK, during domestic visits and missions, and at an annual business reception. Award recipients are nominated and selected by Civil Servants from the Department for International Trade – we want to ensure that all businesses, not only businesses that have the resources to submit applications for awards, can be recognised.
Eligibility requirements
To be eligible for an award, your business must:
be known to DIT and/or territorial office and/or devolved administration staff
be headquartered and registered in the UK
have been recommended against one or more of the criteria by a DIT staff member/contractor or territorial office
pass our internal and/or outsourced screening process with no red or amber flags (eg media profile, any credit/bankruptcy issues, sanctions, regulatory standing)
pay tax in the UK
To win an award, your business must have made an outstanding contribution to international trade in one or more of the following ways:
champions free trade through exporting and inspires others to export
drives notable investment into the UK, generating wealth and jobs
demonstrates outstanding use of finance in international trade
demonstrates an innovative approach to opening up international markets
makes a significant contribution to security and stability in the UK and/or abroad through trade and investment
champions diversity and inclusivity through international trade and encourages and inspires others to do the same
How we'll choose the winners
Relevant national or regional teams from DIT and territorial offices will choose and shortlist nominees at intervals throughout the year. They will then work with the nominated business to produce a citation, highlighting successes.
A panel of senior leaders within DIT (none of whom are in positions that involve regular contact with any of the nominees) will choose the winners. We'll present the awards across the UK nations and regions.
Award winners will receive:
an engraved Board of Trade medallion
a framed certificate
use of the Board of Trade award winner logo on their websites and products/services
Winning businesses will need to sign a permissions of use form to use the logo in this way for 12 months only.
Announced winners
At present, The Board of Trade Awards have celebrated the success of businesses in 3 regions.
The Northern Powerhouse
ARUP Limited
ARUP is an independent firm of designers, planners and engineers, consultants and technical specialists, with more than 13,000 employees across the globe with permanent offices in 35 countries worldwide.
Blue Kangaroo Design Ltd
Creative agency Blue Kangaroo work with some of the biggest names in the toy, entertainment and licensing industry, including Universal Studios, Paramount Pictures, Hasbro and The Walt Disney Company, producing outstanding creative work for clients around the world.
The Anglesey Sea Salt Company Ltd
Situated in an area of outstanding natural beauty, Halen Môn, the Anglesey Sea Salt Company has been making sea salt since 1997 and exporting since 2001 when the company joined forces with an American distributor. Today, their sea salt is enjoyed across the world. It has been served at the London 2012 Olympics, a Royal Wedding and is a vital ingredient in Green & Blacks Chocolate and Piper's Crisps.
John E. Haith Limited
John E Haith, based in Grimsby, was founded in 1937 and produce animal feed. Not only do they supply many of the UK's most successful bird-keepers and bird-breeders they export SUPERCLEAN™ bird foods across the globe.
Scotland
Aggreko PLC
Glasgow-based Aggreko PLC is a supplier of temporary power generation equipment and temperature control equipment, including gas and diesel generators, load banks, heaters, air conditioners and chillers.
Alexander Dennis Limited
Alexander Dennis Limited (ADL) is a UK-based global leader in bus and coach manufacturing for customers in the UK and internationally and one of the fastest growing in the world.
Bowalds Energy Ltd
Bowalds Energy are an energy, oil and gas consultancy servicing company based in Aberdeenshire. The company was founded in 2013 by 3 Nigerian oil and gas experts following a call for demand by UKTI and Royal Dutch Shell at the Global Nigerian-Aberdeen Forum, and quickly established themselves as an important player in the energy, oil and gas consultancy world.
Speyside Distillers Company Limited
Speyside Distillery is one of the last privately owned single malt distillers in Scotland. Although they're relatively small with only 11 employees, their size never holds back their ambition. Working across Europe, the Americas, Australia and Asia Speyside is a competitive distiller fighting its way in the global spirits market.
Enerquip Limited
Launched in June 2015, Aberdeen-based EnerQuip has over 60 years combined experience in the design, manufacture and servicing of torque machines and bucking units. Today EnerQuip have tripled their work force, grew profits, opened a facility in the United States and capitalised on exports which now account for 90% of its overall revenue – living proof of how successful exporting can be.
McGavigan Ltd
Glasgow-based John McGavigan Ltd manufacture a range of technical and decorative plastic components and assemblies for the global automotive industry, supplying many of the global car brands such as BMW, Nissan, Jaguar Land Rover and Volvo from their manufacturing bases in Scotland and China.
The Midlands Engine
The Active Hands Group Limited
The Active Hands Group make gripping aids that are ideal for tetraplegic, quadriplegics, those with cerebral palsy, stroke recovery or any disability that affects hand function. The gripping aids gently, yet firmly hold your hand into a gripping shape enabling you to hold tightly onto objects from hammers to garden tools; gym equipment to wii controllers; adaptive bike handles to musical instruments; and many more. Their mission is to help people achieve more active and inclusive lives – giving them independent access to a variety of activities that would be impossible without Active Hands gripping aids.
Addfield Environmental Systems Limited
Addfield are worldwide industry leaders in the design and manufacturing of animal, medical, aquaculture, mobile and bespoke incinerators. Addfield is the only UK manufacturer that makes 100% of its machines in house and does not rely on contracting services out.
Addmaster Ltd
With nearly 20 years' experience Addmaster is the market leading supplier of technically innovative additives for the plastics, textile, paper, paints and coatings industries. Addmaster helps the world's leading brand owners create a unique selling point for their products with a diverse range of high quality and pioneering additives.
Arquebus Solutions Ltd
Arquebus provides specialised services and support to assist law enforcement organisations, governments, non-government organisations (NGOs) and the military to enhance their response to firearms enabled crime and terrorism through the provision of specialist knowledge transfer, bespoke forensic services, expert advice and technological development.
Body Care Brand Development Limited
Body Care Brand Development Ltd is a family owned business with a reputation for exciting, design driven manufacturing, bespoke packaging and personal care brand creation underpinned with extensive technical knowledge. They specialise in licensed health and beauty products, packaging solutions, brand creation, private label and contract manufacturing.
Forensic Pathways
Incorporated in 2001, Forensic Pathways provides innovative technologies within the criminal intelligence arena. Focused primarily on the provision of digital forensic technologies, Forensic Pathways offers its international clients unique technologies in the management of mobile phone data, image analysis and ballistics analysis.
Hallam Internet
Hallam is a digital marketing agency based in Nottingham. They specialise in helping businesses to be more successful on the Internet.
Ministry of Wool
Ministry of Wool Ltd is a company specialising in the design, development and production of specialist wool garments for targeted market niches. Founded in 2011, after watching images of soldiers returning from Iraq and Afghanistan with avoidable burns and injuries from the clothes they were wearing. Ministry of Wool produce clothing that does not melt or drip if it burns. Clothing that is made for tactical operators, professionals and demanding users in the most extreme environments. They have had products go to space, and worn by professionals operating in some of the highest risk places and environments on earth.
Morningside Pharmaceuticals
Morningside's mission statement is to make quality healthcare an affordable and accessible reality throughout the world. They are a key provider of licensed pharmaceuticals to the NHS and retail pharmacy sector, and are also one of the leading UK suppliers to aid agencies including the United Nations, charities and NGOs.
Published 29 March 2018
Last updated 10 September 2018
+ show all updates
Added the latest Board of Trade winners.

Added the list of previous winners to the bottom of the story.

Addition of last 2 bullet points to 'Eligibility requirements' and amendment of first paragraph of 'How we'll choose the winners'.

First published.