Press release
Birmingham man caught out for fishing illegally
Jen Mun Lin of Sparkhill, Birmingham pleaded guilty to 1 charge of fishing using an illegal method.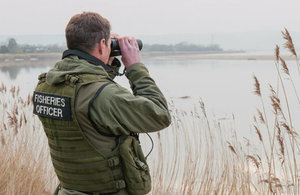 Mr Lin also pleaded guilty to intentionally obstructing an authorised fisheries enforcement officer during the prosecution at Cheltenham Magistrates' Court on 15 August 2016.
He was made the subject of a 2 year Conditional Discharge, ordered to pay £235 in costs, along with a £15 victim surcharge.
On 2 December 2015, Mr Lin was observed on the Gloucester Sharpness Canal, Gloucester by an Environment Agency fisheries enforcement officer pulling set fishing lines from the water. He then put them into a plastic bag he was carrying.
The officer approached Mr Lin and asked him to open the carrier bag. Inside the bag the officer saw a number of mono lines, hooks and a pair of scissors. Set lines are an illegal method of fishing. They present significant welfare issues for not only fish, but other wildlife including waterfowl and animals such as otters. These baited hooks on lengths of fishing line are often left unattended for days at a time. If a fish or other animal becomes hooked on these lines, they can suffer for many hours, even days.
A discussion then took place whereby Mr Lin was cautioned by the officer and asked to provide his details so that the offence could be reported. Mr Lin initially refused to provide the details, but after the officer enlisted the assistance of a translator to support the discussion he eventually provided his driving licence to prove his identity.
Stuart Gamble from the Environment Agency said:
The use of set lines is a particularly barbaric poaching method that can cause significant suffering to fish and animals. The vast majority of fish will either die or will be killed by the poacher. This takes away fish stocks that would otherwise be enjoyed by legitimate anglers.

We track criminals on an intelligence led basis using information gathered by ourselves, partner organisations and reports from the public. We urge anyone to report illegal fishing as quickly as possible by calling our incident hotline on 0800 80 70 60.
Anyone fishing illegally can expect to be prosecuted and face an unlimited and up to £50,000 for byelaw offences. Last year, the Environment Agency checked over 62,000 rod licences and prosecuted more than 1,900 anglers for rod and line offences resulting in fines and costs in excess of £500,000.
In mitigation, the court noted that Mr Lin had pleaded guilty at the first opportunity and that there had been communication difficulties between the officer and Mr Lin. The court also said that there had been no violence involved and that the offence of obstructing the officer had been brief.
Published 17 August 2016