World news story
Bikes change lives with Ride Africa: Ghana
62 cyclists to raise money for Child.org in Ride Africa to impact the lives of children in Ghana, Kenya, Uganda and Sierra Leone.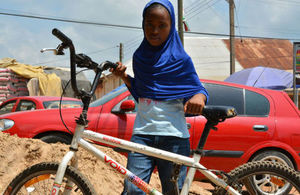 Next week 62 cyclists will take to the road to ride 540k in 5 days to raise money for Child.org in Ride Africa - Ghana. The ride will run from Axim to Hohoe, where riders will meet up with the charity's partners at Shape Lives Foundation and donate their bikes to the project!
So far the riders have raised over £150,000, (over GHc755,701 Ghana Cedi) for Child.org. The money raised will make a massive impact in the lives of children in Ghana, Kenya, Uganda and Sierra Leone.
The cyclists could not have picked a more exciting charity to support! Child.org's innovative HealthStart programme works with local communities to deliver health services through a child's school. HealthStart works holistically to tackle all the barriers that prevent children from accessing an education: from nutrition to sanitation, in a sustainable way.
For the riders, a particularly special moment on the trip will be donating their bikes at the end of the ride. A bike can truly transform lives, to find out how, meet Shakira:
Shakira is 9 years old and lives in Hohoe with her family.
Shakira's Mum, Fusena, bought Shakira a bike from the Shape Lives programme to ensure she could get to school safely. Her family live about 2km from the school and the journey is along a busy road. Fusena used to worry about Shakira walking to and from school as it would mean that she wouldn't get home until late. Now that Shakira has her bike, she is able to ride home from school quickly and safely which means Fusena no longer worries about her daughter walking the distance along the busy road.
Shakira's bike costs 100 Ghanaian Cedis which is roughly £20. Shakira's family were able to pay in instalments which was a huge help for them financially: Fusena told us that:
If it weren't for the project, we wouldn't be able to afford a bike for Shakira.
Fusena is determined to give her daughter the best chance in life and believes that her education is very important. She has high hopes for her daughter and says:
my dream for Shakira is for her to become a doctor Shakira, however, has a dream of her own to become a Journalist as she loves to write.
Fusena says:
there are a lot of children walking to and from school each day like Shakira used to do, so I want the bike project to provide more bicycles for relief.
Our riders are donating their bikes to Shape Lives Foundation's bike project. These bikes will provide a huge resource to the programme, helping to sustain it. This will mean that more children, like Shakira, will be able to get to school safely and on time.
You can support the riders by donating to their fundraising at http://child.org/ride-africa-fundraising-2016
This is just one of the ways in which Child.org are breaking down the barriers faced by children to access an education enabling them to lead a happy and healthy life.
Document information
Published: 18 November 2016