News story
Big Lottery benefits for South Lanarkshire‬
Local community demonstrates how winning the lottery can deliver wider benefits.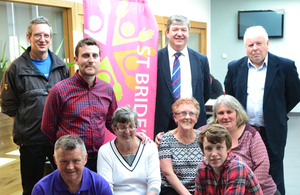 In the 20th year since the establishment of the National Lottery the Scottish Secretary Alistair Carmichael visited South Lanarkshire to see a project which has benefited from lottery funding.‬
‪The Douglas St Bride's Centre is owned and managed by Douglas St. Bride's Community Group volunteers working on behalf of the local community. The aims of the centre are to provide high quality opportunities, raise expectations and support the local community. The centre has received funding from the Big Lottery Fund and South Lanarkshire Council as well as other smaller private sources. ‬
During his visit Mr Carmichael saw the extensive work the group has undertaken to refurbish the former school building to make it fit for use in the 21st century. This has created space for a community hall, a café, gym and office space use by local business and groups such as Citizens Advice‬.
Mr Carmichael said:‬
It was great to be in South Lanarkshire to visit the St Bride's Centre. Run by an enthusiastic group of volunteers they have turned a grand, historic but once neglected building into the beating heart of the local community creating opportunities for people in and around Douglas. For this and their vision for the years ahead there is so much here they can be proud of. ‬

From iconic buildings like the Kelvingrove to initiatives at the heart of the community, hundreds of thousands of projects and good causes across the UK have benefited from billions of pounds of National Lottery Funding.
‪John Gold, Secretary of Douglas St Bride's Community Group‬, said:
We are delighted to welcome the Secretary of States to St Bride's. His visit comes at a particularly opportune time, 2 years in, when we have had time to evaluate the positive impact the investment made by the Lottery and many others has had on our community and at a time when we are looking forward to the next stages of development here at St Bride's.‬

We have enjoyed having the opportunity to share our thoughts and experiences with Mr Carmichael and we hope that he is impressed with what he has seen.
Published 31 July 2014