Press release
Better journeys for drivers around Telford as scheme completes ahead of schedule
Drivers are already starting to benefit from improvements to the M54 Forge roundabout, which have been completed ahead of schedule by the Highways Agency, despite challenging winter weather.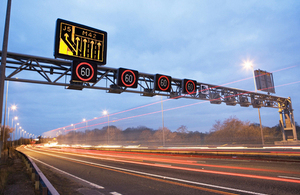 The work, which started in October, has added more capacity by widening the M54 slip road approaches and increasing Forge roundabout to three lanes. In addition, the Hall Park Way, Forge Gate and Rampart Way approaches have also been widened to three lanes. To improve traffic flow, traffic lights have been installed at the roundabout on the M54 slip roads and the Hall Park Way approach.
The project is part of a £317 million pinch point improvement programme designed to boost local economies, reduce congestion and improve safety on the strategic road network in England. The programme is part of the UK government's growth initiative, outlined during the Chancellor's Autumn Statement in November 2011.
Highways Agency Project Manager Jess Kenny said:
This is a major roundabout and this work will reduce congestion and delays and help enhance safety, which is always a priority for us.

Our workers really did have some difficult conditions to deal with throughout the winter since the scheme started at the end of October, so we are glad we've been able to complete ahead of schedule.

I'd like to thank drivers for their patience, as I know between our road works and other work being carried out in Telford by the local authority, there has been some inconvenience. We do hope drivers will now see the benefits and reap the rewards.

We're aware the island itself looks rather bare at the moment, but we want to reassure local people we will be landscaping as soon as the land dries out enough for us to do so.
The pinch point programme provides smaller scale improvements that can deliver big returns by easing congestion and making journey times more reliable for road users, including hauliers and commuters, to help boost local economies and drive economic growth.
General enquiries
Members of the public should contact the Highways Agency Information Line on 0300 123 5000
Media enquiries
Journalists should contact the Highways Agency press office on 0844 693 1448 and use the menu to speak to the most appropriate press officer
Published 9 April 2014