World news story
BEM presented to Falklands nurse
Rachel Williamson's dedication to her community recognised at investiture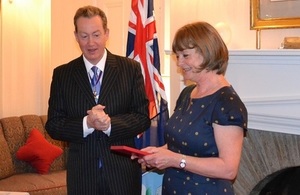 His Excellency the Governor, Colin Roberts CVO, has presented the British Empire Medal to district nurse Rachel Williamson.
At a reception held at Government House on Thursday, September 8, Mr Roberts said:
"Rachel Williamson, you have been at the heart of community nursing in the Falkland Islands for the past two decades. You have shown exceptional commitment to your profession and to the many members of the community who have benefited from your care.
"In a community where individuals are proud of their independence and resilience your care has enabled the elderly and the vulnerable to remain in their homes for as long as possible, greatly enhancing their quality of life. You have also played a key role in the establishment of the Acorns Community Trust, in supporting Team Tranquil and in many other voluntary initiatives within the community.
"It is in recognition of these valuable services that Her Majesty The Queen has conferred upon you a British Empire Medal. It is with great pleasure that I now present you with the Medal and invite everyone to join me in offering you congratulations."
After the presentation Mr Roberts also congratulated Mrs Judy Summers on her MBE which she received for service to justice in the Falkland Islands. Mrs Summers collected her medal from Her Royal Highness The Princess Royal earlier in the year.
Mr Roberts then proposed a Loyal Toast to Her Majesty the Queen.
Published 9 September 2016