World news story
"Baroness Thatcher changed Britain, changed Europe"
The British Ambassador to the Holy See Nigel Baker speaks about Baroness Thatcher's legacy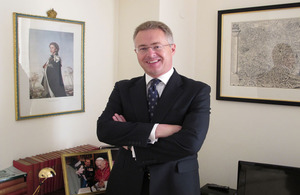 In an interview with Vatican Radio on 9 April 2013, the British Ambassador to the Holy See Nigel Baker paid tribute to the former Prime Minister of the United Kingdom Margaret Thatcher, who died on 8 April 2013.
Ambassador Baker recalled Baroness Thatcher's greatest legacy as a politician, and her towering presence on the world stage as well as in Britain: "Margaret Thatcher will go down in the history books as somebody who along with giants like Pope John Paul II helped to push over the totalitarian regimes".
Listen to the audio (Vatican Radio website)
On 10 April 2013, the Ambassador was also interviewed by Catholic News Agency/EWTN News. HMA Baker touched on what Baroness Thatcher meant for people of faith in Britain:
Lady Thatcher was also a staunch champion of the family […], she will be remembered by people of faith in Britain as a leader with conviction, passion, determination and decisiveness, qualities that continue to be those most needed in political and public leadership today.
Full text (Catholic News Agency website)
Published 10 April 2013