World news story
Barbara Ackonor receives Chevening-Mansion House Scholarship
Barbara Ackonor is the first Ghanaian to receive the highly prized joint Chevening-Mansion House Scholarship.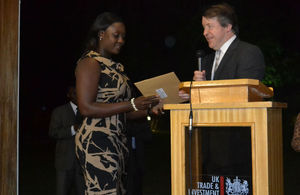 Barbara Ackonor has been announced as the 2013/14 Chevening-Mansion House Scholar. She will receive a scholarship worth £23,000 which is jointly funded by Chevening (£15,400) and Mansion House (£7,500) to study an MSc in Finance at Durham University.
Chevening scholarships are designed for graduates who are already established in their careers and show real leadership potential. Whilst Mansion House Scholarship Scheme are for young business executives to travel to the United Kingdom to study or to undertake training or work experience, specifically in the Financial Services Sector.
Mansion House Scholarships are awarded by the Lord Mayor of the City of London in some of the countries he visits each year, in his primary role of promoting the UK Financial Services Sector and the City of London in particular.
Presenting the award, the Lord Mayor of the City of London, Alderman Roger Gifford, congratulated Ms. Ackonor for placing first in the highly competitive scholarship programme.
Ms. Barbara Ackonor who is an Operations Supervisor at Fidelity Bank, Ghana, was elated and pledged to return home to put the new knowledge to good use.
The Lord Mayor of the City of London arrived in Ghana on Friday May 3, 2013 with a 10-member business delegation. As part of the two-day visit, they met with the Vice President, Kwesi Amissah-Arthur, the Minister of Trade and Industry, Haruna Iddrisu, the Governor of the Bank of Ghana and several others including some of the leading British businesses in Ghana.
He has since left for the UK.
Published 10 May 2013