World news story
Bahraini non governmental organisations visits the UK
The visit was hosted by the Charity Commission of England and Wales.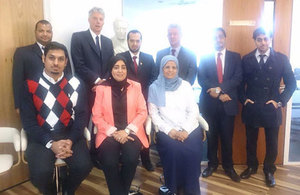 The Non Governmental Organisations Directorate of the Ministry of Social Development, the General Organisation for Youth and Sports and three Non Governmental Organisations, the Youth Pioneer Society, Youth and Technology Society, Future Youth Society, visited the UK from the 2nd – 6th June, hosted by the Charity Commission of England and Wales. British Ambassador Iain Lindsay, OBE said, "I am delighted to see the UK's extensive programme of reform support extending to the NGO sector. The purpose of the visit to the UK was to enable the highly-respected Charity Commission and other relevant UK groups to share their experiences and best practice with the visiting Bahrainis. I am most grateful to the individuals and organisations in the UK who have spent time with the Bahraini delegation. Their assistance has been invaluable. I am most grateful to the Her Excellency the Minister for Social Development for her support".
The trip included visits to UK NGOs The Princes Trust, The National Society for Prevention of Cruelty to Children (NSPCC), London Youth, as well as to the UK Charity Commission Offices. Najwa Janahi, Director of NGO's Ministry of Social Development said, "We learned many things about NGOs in UK on this visit. We visited the Charity Commission where we learnt how to supervise NGOs and share the information using the latest technology. We also visited youth NGOs, charity shops and the National Council for Voluntary Organisations (NCVO). The biggest result of this visit was that youth NGOs in Bahrain and the UK now have an opportunity to work together on a wide range of issues and we hope a new relationship, with support from both Ministry of Social Development and British Embassy will start to bloom.
Published 11 June 2014