World news story
Australia and the UK open a new joint visa application centre in Dhaka
The UK and Australia opened a new joint Visa Application Centre (VAC) in Dhaka on 23 March 2014.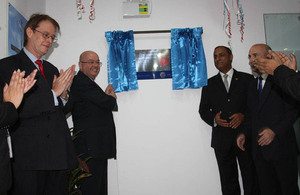 The UK and Australia opened a new joint Visa Application Centre (VAC) in Dhaka on 23 March. In a move further highlighting the collaboration between Australia and the UK, both countries also announced that they had renewed their partnership with VFS Global to provide visa application centre services in Bangladesh and across South Asia on their behalf.
The new Dhaka VAC, located in the Delta Tower Building, Road 90, Gulshan 2, has been designed to ensure further enhancement of the already excellent customer services for visa applicants in Dhaka. The UK will also be opening a new VAC with similar upgraded facilities in Sylhet in the coming weeks.
The Dhaka VAC was formerly opened by the British High Commissioner, Robert W Gibson on 24 March. UK Visas and Immigration was represented by its country operations manager, Ron Rimmer. The Australian High Commission was represented by its Regional Director South Asia, Jose Alvarez. VFS Global was represented by its South Asia Manager, Anil Katoch.
Opening the new joint Dhaka VAC, the British High Commissioner, Robert W Gibson, said:
"I am delighted to be here today to open our new visa application centre in Bangladesh along with our partners the Australian High Commission.
"The opening of this new joint VAC in Dhaka, managed by VFS Global on our behalf, up until 2019, is a demonstration of our determination to offer and deliver high levels of customer service excellence, and underline the message that the UK is open for business.
"On average we receive over 30 thousand UK visa applications each year, which just shows how important Bangladesh is to Britain.
"The relationship between our two countries is strong and this visa application centre is clear evidence that of our investment in Bangladesh to provide an efficient and cost effective service to UK visa applicants."
Australian Regional Director, South Asia, Jose Alvarez, said:
"Australia was looking forward to continuing its longstanding working relationship with the UK Visa and Immigration Service. These arrangements allow Australia and the UK to build our immigration cooperation further and demonstrate the value we place on collaboration between our countries. This joint VAC reflects the Australian Government's commitment to providing high standards of visa services to our clients."
Ron Rimmer, UK Visas & Immigration Country Operations Manager said:
"The opening of the new joint UK/Australia VAC in Dhaka, is an important milestone in promoting customer service excellence and is due recognition of the importance we place on providing the best possible UK visa service for applicants in Bangladesh.
"A vital part of our efforts is ensuring that the company operating VACs on our behalf consistently meets and maintains the very high standards we demand, particularly with regards to customer service and integrity. I am therefore pleased to be able to confirm that our current commercial partner, VFS Global, have been awarded a new 5 year contract and will be working with UK Visas and Immigration until 2019."
Mr Anil Katoch, COO – South Asia, VFS Global said:
"We are honoured to be associated with the UK and Australia, our esteemed client governments, and delighted to offer visa applicants from in and around Dhaka a new Visa Application Centre with state-of-the-art facilities. We support the UK Government in their initiative to introduce next generation outsourced visas with an enhanced service, and conveniently located Visa Application Centres in Dhaka and Sylhet. We have been the trusted partner to the Government of Australia in Bangladesh since 2004, and also have the privilege to serve the client in 22 other countries globally. We are committed to offer high-quality and secure visa application services to Australia visa applicants, and are sure that the new centre will significantly enhance their visa application experience."
Published 24 March 2014
Last updated 24 March 2014
+ show all updates
Added na image.
Minor change
First published.