Press release
Attorney General launches recruitment campaign for new Director of Public Prosecutions
Recruitment campaign launches to find the next DPP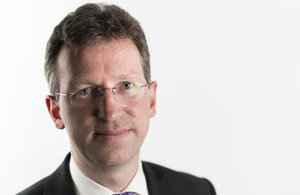 The Attorney General, Jeremy Wright QC MP, has today launched a recruitment campaign to find the next Director of Public Prosecutions (DPP).
It was announced earlier this week that the current DPP, Alison Saunders CB, will stand down in October 2018 at the end of her 5 year term.
Announcing the recruitment campaign, the Attorney General Jeremy Wright QC MP said:
In recruiting the next DPP we are looking for an extraordinary candidate. The job requires excellent legal judgement, the ability to lead a large organisation and the capacity to work with others in improving the criminal justice system as a whole.

This is an exciting time to be joining the CPS and to be able to play a pivotal role in shaping the organisation and its future.
The Crown Prosecution Service (CPS) employs around 6,000 people. It prosecutes criminal cases that have been investigated by the police and other investigative organisations in England and Wales, including the National Crime Agency and HMRC.
The job advert can be found on the Civil Service Jobs website and the deadline for applications is 9.00 on 14 May 2018.
Published 4 April 2018