World news story
Asteras Tripoli vs Tottenham Hotspur
Travel advice for fans travelling to Greece for Asteras Tripoli v Tottenham Hotspur football match on 6th November 2014.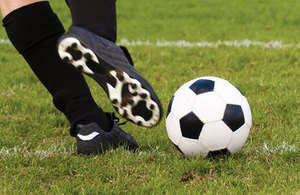 Advice for fans travelling to Greece for Asteras Tripoli v Tottenham Hotspur football match on 6th
Date: Thursday 6 November 2014
Venue: Asteras Tripoli football club, Thodoros Kolokotronis stadium, Tripoli, Arcadia.
Kickoff: 8pm (local time)
Address: Terma Terpseti, Tripoli 221 00
Tel: 2710 230400
Website: www.asterastripolis.gr/
As well as this advice, check out our advice for Greece.
And the following site: www.gov.uk/government/world-location-news/football-travel-advice.
Passports and visas
you don't need a visa to travel to Greece but your passport should be valid for at least the length of your stay.
remember your European Health Insurance Card (EHIC) but also take out travel insurance,
even if you're only going for one night - it could save you a lot of money if you get into difficulties
Do make sure that your passport is valid and in good condition. Keep your passport safe and keep separate copies of it when travelling. It is advisable to leave a photocopy of your passport and itinerary with a friend or a relative at home. Please take care of your passport – if you lose it you will need to report the loss to the local police and apply to the British Embassy on the next working day for an Emergency Travel Document (ETD) to return to the UK. This could mean that you miss your flight home and need to pay for another flight in addition to paying for the ETD.
Getting to the stadium
www.stadia.gr/tripoli/tripoli.html
By Bus:
From Athens airport take the airport bus to Kifisou bus station – www.oasa.gr/xmap.php?id=px93&lang=en

then take the KTEL bus from Kifisou bus station to Tripoli - www.ktelarkadias.gr/en/athena-tripole.html
By Car:
Rental cars are widely available from Athens airport - www.aia.gr/traveler/landing-in-Athens/car-rental/
At the Stadium
The gates open two hours before kick-off.
The away section [North stand] is accessed via Gate 4. Please refer to your match ticket for gate, block, row and seat number details.
A search by local police officers will be made before entering the stadium.
Away supporters can enjoy dedicated refreshment and toilet facilities. The section is well signposted and supporters will have a good view of the pitch albeit with a fence in front of the away section. After the match it is anticipated that visiting fans will be kept back within the away section for approximately 10 minutes. Please be patient with the authorities, announcements will be made to keep you updated.
Fans can expect to be security checked more than once on the approach to the stadium.
No alcohol is allowed at the match. Fans who are manifestly drunk will be refused entry.
Rowdy and noisy behaviour, especially alcohol related, may not be tolerated by the Greek authorities.
Please note that the following items will NOT be allowed into the stadium [this list may not be exhaustive]: weapons, potential weapons, fireworks, drinks, alcohol, drugs, flag poles over 1m, flags over 1.5 x 2m, large cameras, animals, promotional material, spray cans, luggage, toilet / kitchen rolls and megaphones.
Tips
Watch out for pickpockets in busy tourist areas and on public transport. Keep a photocopy of your passport with you. Only carry what you need, leave spare cash and valuables in hotel safety deposits
British Embassy/Consulate address and telephone number
British Embassy, 1 Ploutarchou, Athens Tel +30 210 7272600
Public opening hours are by appointment only [except in the case of an emergency when Consular staff will exceptionally see customers without an appointment]: 9am to 1pm, Monday, Wednesday and Friday
Telephone lines are open: 8am to 3pm, Monday to Friday
Nearest metro: Evangelismos
In the event of an emergency when the Embassy is closed, call the above number for information about connection to the Global Response Centre in the Foreign and Commonwealth Office.
Emergency services numbers:
Police 100;
Ambulance 166;
Fire 199 or
European emergency number 112.
Dialling 999 from a UK mobile will automatically connect you to the Greek emergency services.
Published 3 November 2014