Press release
Aspiring students encouraged to apply now for student finance
Students in England should apply for their student finance as early as possible.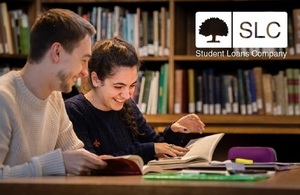 Full time undergraduate students can now apply for funding at Student Finance England even if they don't have a confirmed place at university yet.
This year for the first time students can apply for funding for accelerated degrees, where the courses are available, which allow students to complete their studies in two years rather than three.
Last year SLC received over 1.2million applications from undergraduate students in England with almost 70% of applications in before the deadline. The deadline for students to get their applications in for the 19/20 academic year is 24 May 2019.
Executive Director of Operations, Derek Ross, said: "Last year the majority of students applied for their funding early, which was great. We hope to see that trend continuing. Applying for your student finance before the deadline is the best way to make sure you have your finances sorted before term starts."
More information on how to apply is available on the online student community forum, The Student Room. This information is designed to help new students and their parents find out everything they need to know about the application process.
Other tips for making the application process as smooth as possible include:
Having your National Insurance Number and passport details to hand before you start your online application as you will be asked for this information as part of the process. Keeping a note of the email address you use when applying for student finance and making sure you choose a password you'll remember. Don't worry if you do forget it as you will be able to reset it yourself using our password reset service.
Following SFE at facebook.com/SFEngland, twitter.com/SF_England or youtube/SFEFILM to keep up with all the latest news alerts.
For further information contact:
Published 27 February 2019