World news story
M.B.E. honors legacy of British archaeologist in Panama
Richard Cooke, a scientist at the Smithsonian Institute, officially received the Most Excellent Order of the British Empire at the Ambassador's Residence.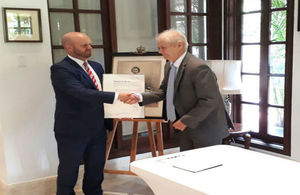 On the afternoon of Thursday, January 25, Richard Cooke, a scientist at the Smithsonian Tropical Research Institute in Panama, officially received the Most Excellent Order of the British Empire at the UK Ambassador's Residence.
This Honor is bestowed by H.M. the Queen twice a year as part of her birthday celebration, and the New Year. It was originally established in 1917 by King George V.
Recipients of The Most Excellent Order of the British Empire (M. B. E.) are honored for their contributions to the arts and sciences, charitable contributions and public service, outside of civil service.
Cooke was nominated for this promotion by British friends and students from the UK, who recognised the impact of his contributions over the years.
The award was announced by The Gazette - the UK's official publication - in June 2017. The note details that Archaeologist Cooke was decorated because of his" services to the archaeology and intellect of the ancient civilization of Central America.
During the ceremony, friends and colleagues of Cooke expressed the magnitude of the impact of their research on the Panamanian legacy for nearly 50 years.
About Cooke:
Cooke was born in Guildford, England in 1946. In 1968 he obtained his degree in Archaeology and Modern Languages from the University of Bristol. In October 1969 he arrived in the country to work on his doctorate from the University of London in 1972.
Cooke's main research interests are: the history of fishing in tropical waters, archeology and paleo-ecology of the Central American land bridge, as well as archaeo-zoology.
His work and that of his colleagues provide archaeological and human genetics, linguistics and ecology data that clearly shows us that during the 15,000 years of the pre-Columbian period, there were human societies living in national lands.
It has provided many professional opportunities for Panamanian and Central American archaeologists, as well as for archaeologists from other countries.
Cooke is a tireless promoter of Panamanian archaeology.
Published 26 January 2018
Last updated 29 January 2018
+ show all updates
The tags, photos and translations were missing

First published.