Armchair auditors should act on their rights to inspect town hall books
A new online search engine launched today shows local taxpayers when they can inspect their council's detailed financial spending and ledgers…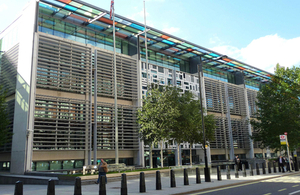 A new online search engine launched today shows local taxpayers when they can inspect their council's detailed financial spending and ledgers as part of greater public transparency, Local Government Secretary Eric Pickles announced today.
Every council is required by law to make its accounts available to the public for 20 days a year. This includes every invoice, payment and receipt registered in the council's ledgers. It applies to all expenditure, not just amounts over £500.
To help residents and armchair auditors to find out when they have a right to inspect, an online search engine has been published setting out the open day period for over 280 councils. Ministers have said they would like to see all councils sign up to the catalogue. Accounting rules have already been amended to require councils to publicise these little known rights to inspect.
For the majority of taxpayers the window of opportunity to see these documents is open now or due to begin shortly. Mr Pickles is urging citizens not to miss out on the chance to view their council's and fire and rescue authorities books.
Eric Pickles said:
Transparency is the foundation for a strong local democracy. It strengthens the hand of citizens by opening up the processes that show where their council tax goes. It helps councils do more for less, protect frontline services and save taxpayers' money.

For the next few weeks, Town Hall ledgers across the country are open to the scrutiny of armchair auditors. Every concerned citizen should use this opportunity to dig into the intricacies of their council's coffers.
Every council, except, Nottingham City Council, now routinely publishes its spending over £500 online. Mr Pickles added:
These rights complement online transparency. It is disappointing that one local authority is still failing to publish its spending online. I urge the press and public to exercise their legal rights to inspect Nottingham's books on the day they make their accounts available.
Notes to editors
To find out when they can check the accounts at their council, residents can simply enter their postcode, town or council name into the search engine to find their councils details. They can choose from the options for entering your details and click 'Go'. Alternatively they can search through a map function. This service is only available in England and is dependent on local authorities registering with the local directgov team: http://local.direct.gov.uk/LDGRedirect/index.jsp?LGSL=1584&LGIL=8 (external link).

The information is also available as a spreadsheet (see link below) that has been produced using the catalogue.
More details of council transparency in your area can be found at:            www.direct.gov.uk/en/HomeAndCommunity/YourlocalcouncilandCouncilTax/YourCommunity/DG_196382 (external link). 

The revised Accounts and Audit (England) Regulations 2011 now include the following requirement:
(1) The procedure for a larger relevant body to give notice of public rights, mentioned in regulation 24, is that, not later than 14 days before the commencement of the period during which the accounts and other documents are made available in pursuance of regulation 9, the body must give notice by advertisement and on its website of the matters set out in paragraph (2)

(2) The matters referred to in paragraph (1) are -

(a) the period during which the accounts and other documents referred to in paragraph (1) will be available for inspection in accordance with regulation 9;
(b) the place at which, and the hours during which, they will be so available;
(c) the name and address of the auditor;
(d) the provisions contained in section 15 (inspection of documents and questions at audit)(a)
and section 16(b) (right to make objections at audit) of the 1998 Act; and
(e) the date appointed under regulation 21 for the exercise of rights of electors."
The full regulations can be found at: www.legislation.gov.uk/uksi/2011/817/contents/made (external link).
Twitter
Keep up to date with the Department by following us on Twitter (external link).
Media enquiries
Visit our newsroom contacts page for media enquiry contact details.
Published 22 July 2011