World news story
Aptis successfully launched to Greek shipping sector
UKTI Greece helped organise the official launch of Aptis, the British Council's new business English assessment service to the Greek shipping community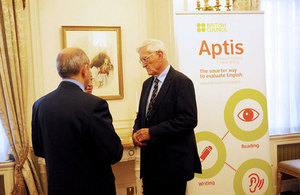 Aptis is a business-to-business English language assessment service for professionals which can be tailored to the needs of specific industries. It's been developed by leading experts in English language assessment and backed by academic research. It can be delivered globally through an interactive test platform allowing:
quick and easy administration and marking
lower testing costs
delivery via computer, pen and paper or by phone
The launch which took place on 1 October 2014 brought together language assessment/education and shipping. These 2 sectors offer significant opportunities for the promotion on UK excellence and have always underlined the close commercial ties between the 2 countries.
Opening the event, British Ambassador John Kittmer stressed the importance of reliable communication, which is becoming increasingly important in modern times and that this is even more relevant in the shipping sector that is global by definition:
Ocean-going vessels are faced with complex issues that rely heavily on effective and reliable communication among their multi-national crew as well as port authorities. In this industry, risks and costs associated to communication-related shortcomings or failures can be detrimental.
I am glad to note that the cooperation between our two countries in the shipping sector is expanding further in the area of skills and competences of shipping professionals.
Shipping is an industry where English is the accepted working language. However, guest speakers Michael Grey, former editor of Lloyd's List, and Elisabeth Wood, from the West of England P&I Club raised awareness of the risks of complacency and assumption. In particular they:
spoke about the impact of poor communication as a business risk
demonstrated real-life examples of communication problems that shipping professionals are faced with and their consequences
On behalf of the British Council David Sorrentino gave a presentation that demonstrated how Aptis can help mitigate some of these risks. He also highlighted the fact that Aptis can be customised to serve the diverse needs of the shipping industry and that as a global organisation the British Council can serve Greek shipping companies in countries where crews are sourced.
If you are a UK company looking to expand your business in Greece please contact:
Department for International Trade Greece
British Embassy
Ploutarchou 1
106 75
Greece
Published 9 October 2014