News story
Apprentices promote the organisation to the next generation at Gen2 event
LLW Repository Ltd (LLWR) Stand proves popular with potential new recruits.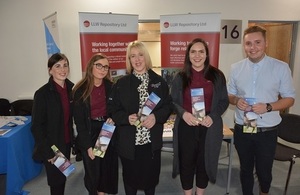 Two of LLWR's apprentices joined senior colleagues at a Gen2 Open Evening to help promote the organisation to potential new recruits.
Chloe Blinco and Jade Murphy (both Business Administration apprentices) were joined at the event by Owen Adair, who after completing a four year craft apprenticeship with the company now has a role as an Electrical Technician on the Repository Site.
Abbie Wright, Apprentice Scheme Co-ordinator, thought the recruitment event, hosted by training provider Gen2, well worth the time and effort, with a steady stream of young people visiting the LLWR stand to learn more about the organisation.
"We have two more vacancies for apprentices next year and we wanted to be recognised as a potential employer for those submitting applications for next year's recruitment," Abbie said. "We've showcased some of the great work we do with apprentices.
"Our retention rate is excellent and many of our apprentices have gone on to do really well with LLWR, by gaining positions within the company and completing further education."
Owen, who studied for a Higher National Certificate (HNC) qualification with LLWR and is now working towards a Higher National Diploma (HND), added: "I really enjoyed my apprenticeship. It was hard work but I was doing different things every day, which made it interesting.
"I was given tasks and deadlines and it didn't really feel like an apprenticeship. I felt part of the team."
Published 26 November 2018