Press release
Apprentices celebrate Scottish Apprenticeship Week
SLC apprentices share their experiences during Scottish Apprenticeship Week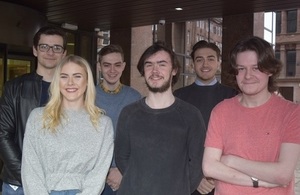 Seven ambitious young Scots are sharing their experiences of working as apprentices with a major Glasgow employer during Scottish Apprenticeship Week (4-11 March).
Amber Caldwell (18), Ross McLaughlin (20), Sean Steele (18), Michael McGrattan (19), Kyle Colquhoun (19), Sam Conaghan (19), Ewan Johnstone (18) and David Wallace (21) are all in the second year of the Technology Group apprenticeship programme run by the Student Loans Company (SLC). SLC is responsible for administering all student loans across the UK and employs 3,300 people in total, 1,700 of them in Glasgow.
Talking about working as a Technical Modern Apprentice, Amber Caldwell, said:
"My experience of working at SLC so far has been great. I've been given lots of opportunities to meet with many different teams within the Technology Group and get an insight into what they do, giving me the chance to learn and develop my skills.
"So far, I've been given the opportunity to work with different three teams, Configuration Management, Security and Networks, all providing me with different skills to put towards my apprenticeship and build my CV."
Ross McLaughlin, Software Delivery Apprentice comments:
"I've thoroughly enjoyed my first year here at SLC and all the challenges I've faced. The teams I have been in have both made me feel more than welcome. Everyone's always looking to help me develop my skills wherever possible.
"I'm looking forward to seeing what the future at SLC brings for me."
Lesley Cuthill, SLC Service Delivery Manager in Learning and Development, commented:
"The apprenticeship programme has really taken off across the whole organisation. We've already welcomed more than 100 apprentices to various departments and all are working hard to develop their skills while completing their qualifications."
More information on employment opportunities with SLC can be found here.
For further information please contact:
Published 5 March 2019