Appointments to the Homes and Communities Agency Board
The Secretary of State for Communities and Local Government today appointed three non-executive members to the Board of the Homes and Communities…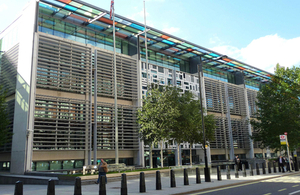 The Secretary of State for Communities and Local Government today appointed three non-executive members to the Board of the Homes and Communities Agency (HCA) following open competition:
Richard Hyde
Anthony Preiskel
Ruth Thompson.
Commenting on the appointment, Housing Minister Mark Prisk said:
I am pleased to announce the appointment of Richard Hyde, Anthony Preiskel and Ruth Thompson to the HCA Board. They will bring valuable commercial experieince to the Board, helping the Agency to deliver housing and regeneration to meet the needs of local communities.
Chairman of the HCA Board, Robert Napier said:
I very much welcome these appointments. The HCA has a strong Board and it will be further strengthened by the wealth of commercial and public sector expertise that Anthony, Richard and Ruth will bring; helping to ensure that the Agency continues to meet local priorities while providing good value for money for the taxpayer.

And I must also record my thanks to those who are stepping down from the HCA Board; together they have been instrumental in driving the Agency in successful delivery, meeting or exceeding all of the key targets set by Government.
Notes to editors
The Homes and Communities Agency (HCA) is the Government agency tasked with supporting and enabling places to deliver their housing and regeneration needs and helping to drive local economic growth.

The appointments were made on open competition, conducted by the Department for Communities and Local Government in accordance with the Commissioner for Public Appointments' Code of Practice for Ministerial Appointments to Public Bodies.

Richard Hyde is currently chief executive of Brian Hyde Ltd (a sales, distribution and marketing business), a non-executive at Midland Heart housing association and Centro, the West Midlands passenger transport authority. He is deputy chairman of the Shakespeare Birthplace Trust. He was previously deputy chairman of Advantage West Midlands. Richard was also previously a Conservative County (Warwickshire) (2001-2009) and District (Stratford-on-Avon) (1996-2002) councillor, and spent time as deputy leader of the district council and deputy group leader of the West Midlands Local Government Association.

Anthony Preiskel recently retired from a career of more than 20 years at P&O, chiefly as Deputy Chairman and Managing Director of P&O Properties. He is currently an independent director of the Kensington & Chelsea Tenant Management Organisation (TMO), the company which manages all the social housing owned by the Royal Borough.

Ruth Thompson's career has been in the utilities sector, including senior roles at National Grid, Transco and British Gas. Her responsibilities have included delivering major business change involving significant asset portfolios and engagement with regulators. Ruth moved into a non-executive career in 2006, including as deputy chair of the One North East Regional Development Agency up until its abolition and as a member of the National Renewable Energy Centre.

Richard Hyde, Anthony Preiskel and Ruth Thompson have each been appointed to the Board for a term of three years commencing on 1 November 2012. Their remuneration will be £12,000 for two days per month.

The Secretary of State has reappointed Ian Robertson and Bob Lane to the HCA Board for terms of three years and two years respectively with effect from 1 October 2012. Shaukat Moledina, Peter Roberts, Dru Vesty and Don Wood had all left the Board by the end of October 2012.

The Government has also undertaken a separate process to appoint new members to the HCA Regulation Committee. These appointments will be announced shortly.
Published 1 November 2012