World news story
Applying for a UK Visa in Macedonia
Information on how and where to apply for a UK visa from Macedonia.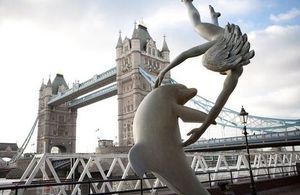 The British Embassy in Macedonia does not handle visa applications, as the process is managed by our commercial partner Teleperformance Ltd.
Please note that all visa applications must be made online. You must book an appointment to visit our UK Visa Application Centre to enrol your biometric information.
The UK Visa Application Centre in Macedonia is located at:
UK Visa Application Centre
Soravia Centre
Filip Vtori Makedonski No.3
Skopje, Macedonia

Opening hours of the visa application centre are Monday, Tuesday and Wednesday from 09.00 – 13.00.
You can check if you require a visa and apply online through the UK Visas & Immigration pages.
Completed applications will be sent to the decision making Visa Hub in Warsaw for processing. Staff at the Visa Application Centre in Skopje play no part in the decision making process. Please note when applying for a UK visa your passport will be held by the UK Visa Hub for visa processing.
Processing Times
The targeted UKVI time for visa application processing is 15 working days. However, each application is unique and some may require different processing times depending on the category of the visa applied. If you would like to find out more about the visa processing times use the tool available at the Visa processing times page. Please allow additional time for your passport to be dispatched to you.
Guidance documents:
Guidance about the documents you need for a visitor visa application.
Guidance on applying for any UK visit visa using VAF1 forms.
Priority Service:
For certain categories of applications you can use the Priority Service, chargeable with additional fee, which enables you to have shorter period for visa application processing. By opting for the Priority Service, it does not imply or guarantee in any way that you will be successful in your application. All visa applicants must meet the requirements of the UK Immigration Rules. The amount paid for the priority service, as well as the visa application fee, is not refundable if the visa application is refused or, in exceptional cases, takes longer to process.
Please check our Visas and Immigration page or UK Visa Application Centre Website for further information.
International Enquiry Service
If you require additional visa information, or have a query about the visa application process, you can contact the international enquiry service.
Following services are available:
Email contact service, free of charge: a web form enables customers to make email enquiries
Webchat: customers can access a real time webchat with an agent for a charge of £4 a session
Telephone contact service: speaking to an advisor will cost £1.37 plus the cost of the call. Call costs will vary depending on the call type, the customer's tariff and local charges. Telephone number: +389 2 320 77 88 or +44 1243 213 295 from 0900 to 1700.
Additional Information
Customers who apply for a UK visa in Macedonia can track their application in real time by logging into their user account on www.tpcontact.co.uk
The Visa Application Centre in Skopje is a User Pay Visa Application Centre. This is a Visa Application Centre where the operating costs are met through an additional charge paid by the customer. This allows UK Visas and Immigration to offer a visa service at a location where the costs of continuing to offer a service free of charge would otherwise be prohibitive. The UK continues to retain free to use Visa Application Centres in locations across the globe. These can be used by customers who do not wish to pay the additional charge and are willing and able to travel legally to another Visa Application Centre.
If you need more details on applying for a UK visa in Macedonia you can find useful brochures with information for various visa categories.
Published 2 April 2014
Last updated 26 January 2015
+ show all updates
Updated information on applying for a UK visa in Macedonia.
Updated information on applying for UK visa in Macedonia.
Updated information on applying for a UK visa.
Updated address of the Visa Application Centre in Skopje.
First published.